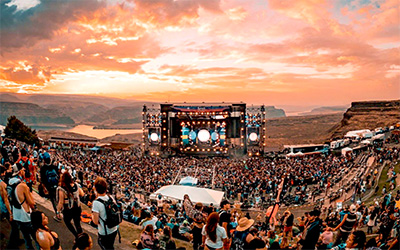 The inaugural Bass Canyon Festival at the Gorge Amphitheatre the Columbia River Gorge in Washington saw hire companies PK Sound provide the sound system.
Run by Live Nation, the event offered four nights of camping and three days of music with performances from 40 artists, including headliner Excision, who performed two solo sets to a total crowd of 18,000.
Bryan Andres has worked with PK and DJ/producer Jeff Abel (aka Excision) for seven years, and used PK Sound subwoofers and monitors since the start of his music career. With the introduction of the Trinity Advanced Line Array in 2015, Excision has exclusively used PK Sound speakers for his entire rig whenever he headlines, just as at the Bass Canyon Festival.
The festival set-up used 16 Trinity Advanced Robotic Line Array speakers per side in the main hang plus four on each side of the deck for out fill; 12 Gravity 30s and 44 CX800s comprised the main ground cluster, plus six CX800s per side flown behind the main hangs. Three hangs of eight PK VX10 compact arrays proided field delays.
'For Excision, it's always a guarantee that his rig is going to sound the way he likes it because PK Sound has that low end that he's looking for,' Andres says. 'Plus, with Trinity, we have the punch in the mid-range and the clarity in the top. So, he know's that he's going to get the best result – and the best sound – for the way he makes his music.'
Adding Trinity Advanced Robotic Line array to Excision's PA system helped to distribute the sonic experience of Bass Canyon evenly across the Gorge Amphitheatre's natural terrain, providing a uniform listening experience for all attendees.
'Because you can change the directionality with Trinity, you can actually narrow the sound field in the top boxes and focus the sound to go further, making more of an impact on the higher, farther distances that you're aiming for. It was really nice at the Gorge, because we had the top boxes angled up. Then, by focusing the horizontals, we were able to push the sound pretty high up the hill.'
Calibrated sound distribution throughout the Gorge wasn't the only benefit the PK Sound speakers provided. 'The PA goes up really quickly,' Andres says. Which resulted in a smooth set up working alongside the ambitious stage production and lighting design for The Paradox and the technicians who built it.
With such a turnout for the first Bass Canyon Festival, Andres speculates that there could be another next year. In the meantime, he is working on this year's Lost Lands Festival in Ohio, and Bassnectar in San Francisco, followed by a few weeks on tour with Snails.
More: www.pksound.ca