Presenting traditional architectural elements-along with their accompanying acoustical challenges, the Church of St Charles Borromeo is located about four miles northeast of downtown Minneapolis. While recent renovations have enhanced the church's beauty, they have done so at the cost of the sanctuary's acoustics.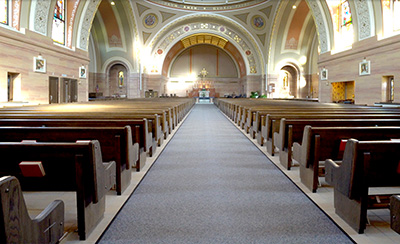 'When St Charles was built [in 1959], the builders had the presence of mind to use a special plaster that had some acoustical properties to help cut down a little bit on the reflections,' says Randy Keeley, VP of Sales for systems integrator and dealer Metro Sound & Lighting (MSL). 'They decided to repaint the entire church and give it a facelift, which took away those acoustical properties, so the space became very ambient.'
The parish had contacted MSL to design and install a new sound system: 'We came in and did some evaluations and decided that steerable-beam technology was the best solution,' Keeley continues. 'We used two Renkus-Heinz Iconyx Gen 5 IC32-RN digitally steerable line array loudspeakers at the front of the church to serve as the main sound system.'
The combination of programmable control and precision beam steering offered by the IC32-RN enabled coverage of all pews, while minimising reflections off the sanctuary's many hard surfaces. 'We were prepared to use fills but they were not necessary, as the two IC32-RN arrays do an incredible job in this space,' Keeley says.
Although two IC32-RN loudspeakers provide clear, intelligible sound throughout the cavernous space, the MSL team also wanted to ensure that choral music performed in the rear loft was properly localised. 'In the back of the church, we hung one Renkus-Heinz IC Live Gen5-series ICL-F-RN digitally steered array in front of the choir loft, and that works quite well,' Keeley says. 'It helps keep the point of reference; it makes sense to people because the music comes from the same location where it is performed.'
The ICL-F-RN is smaller than the IC32-RN but quite powerful, delivering up to 105dB SPL from 80Hz to 20kHz. Horizontal dispersion is 150° up to 3kHz and 120° above 3kHz, providing broad, even coverage, so the Church of St Charles required a single ICL-F-RN with up to four steerable beams. The array's slim, low-profile enclosure is visible below the choir loft, but unobtrusive.
'We have used Renkus-Heinz steerable beam technology in other churches that presented similar problems acoustically, so we were very confident in using it once again here,' asserts Keeley. 'Intelligibility and overall audio quality are excellent throughout the space. Renkus-Heinz Iconyx has been an extremely good product for us. It is quickly becoming our go-to product in challenging applications such as this.'