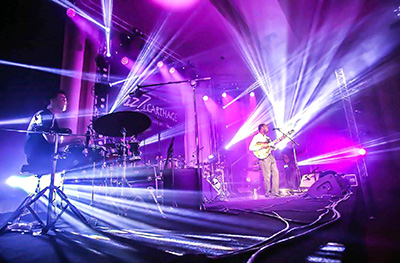 The 13th Jazz at Carthage festival saw an upgrade the monitors on both of its stages, with Clair Brothers 1AM and 1.5AM the unanimous choices for the job.
Bringing pop, soul, R&B and swing to Tunisia's youth, the Scoop Organization –promoter and producer of shows, festivals, concerts and events – believes the field of music and entertainment deserves the chance to blossom.
'Achieving this important vision for Tunisia and its music scene is something special and requires the best production to get there,' says Mourad Mathari from Scoop Productions. 'With regard to the on-stage sound for the performers, we were all well aware of the global reputation for quality that Clair Brothers brings. So, when we had the opportunity to implement the 1AM and 1.5AM monitors on both stages, we went for it without question – and everything worked perfectly.
'The artists unanimously loved the sound so much that we plan to expand our use of Clair Brothers gear next year.'
'In addition to the 1AM and 1.5AM stage monitors, we plan to incorporate the Clair Brothers C8 loudspeaker system for FOH,' explains Sami Sidhom, founder of Pro Audio and Light, Clair Brothers' Tunisia distributor. 'We can't wait. It's truly exciting how Jazz at Carthage just keeps getting better and better each year.'
More: www.clairbrothers.com