Oslo's new Vaterland occupies a three-storey 1700s-era building promising 'Pizza, Craft beer, Rock, Punk and Metal'. Its first floor and outdoor seating area house the brew pub and pizzeria, while the second-floor functions as an intimate 100-capacity live-performance venue with a 160sq-ft 'dive-bar stage.'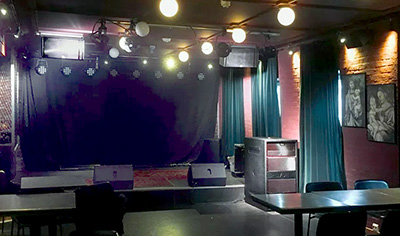 For its live sound system, Vaterland's owners turned to Oslo-based avon to design a system that would deliver an audio experience as impressive as the concept was simple. Based on the success of several recent h-class installs, avon specified an all-Vue Audiotechnik system anchored by the new, low vertical profile h-208 high-definition system. Lows are provided by the hs-221 dual infra sub.
According to Fritz Pettersen – who oversees booking, public relations and marketing – the Vue system has quickly become an important marketing tool: 'It has made everything from booking shows, to impressing visiting sound engineers, easier,' he says. 'Plus, if you read our reviews, you'll see that the live sound at the venue is already one of our strongest selling points. The Vue system is helping ensure we stand out from the crowd, and keep our crowds on their feet.'
The avon-designed system includes two active h-208 configured in a stereo set-up as mains with an hs-221 dual infrasonic subwoofer; and four a-12 full-range systems as stage monitors. In keeping with avon's commitment to fast turnaround with on-hand inventory and a pool of licenced installers, they designed, delivered and installed the system within 48 hours of receipt of the order.
'We continue to see a promising shift in the strategic importance venue owners place on audio,' explains avon co-founder, Edgar Andraa Lien. 'When designed thoughtfully and integrated into a business plan, the audio system can be a key success driver in the live sound and hospitality space. Venue after venue, Vue has proven it is the ideal system to deliver the kind of world-class, highly reliable audio that elevates the stature of the venues that use it.'
More: www.vueaudio.com