The current German Bundestag – the largest in its history – has installed a Stage Tec Nexus audio network and Siemens S7 controller to manage speaking sessions in the plenary chamber.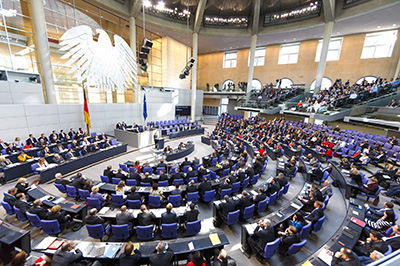 The Nexus network and five accompanying Base Devices handle directional sound reinforcement through its delay matrix to ensure that representatives' remote microphones are localised where they are positioned. For this, Stage Tec developed the S7 interface, which bridges the Nexus protocol and the Siemens S7 controller. The S7 interface controls the Nexus XDSP board, which is responsible for positioning and parameter control.
The Nexus network was installed in 1999 as a proprietary system and, at that time, was the world's first with digital microphones. It has now been replaced by a new system providing many sound reinforcement positions. The number of microphone interfaces is exceptionally high at 140, converted to AES 42 digital microphones using integrated TrueMatch A/D converters. The Nexus network has been highly customised with comprehensive logic programming.
'The Bundestag has once again opted for Nexus and a Stage Tec mixing console – proof that our technology has fulfilled all requirements in the past 18 years,' says André Scheel from Stage Tec, responsible for the installation. 'We are very pleased about this particular reference. The success of this project, despite great time pressure, is due also to excellent collaboration with Siemens and the Bundestag staff. That's all the more impressive when you consider that we don't work together very often.'
The cabling has not been renewed as Stage Tec has connected the Nexus network with a fibre-optic cable infrastructure 18 years ago.
Enhanced reliability is achieved by the redundant design of all Nexus audio modules. Comprehensive self-test functions, which include all components, from the microphones to the loudspeakers, ensure rapid diagnosis in the event of a fault.
The Plenary Hall has two control rooms equipped with Auratus mixing consoles. The Auratus in the plenary hall control room manages parliamentary audio sound reinforcement, while the console in the broadcast control room manages the radio and television frreds, for example for broadcasts on phoenix, on the parliamentary television channel and in-house in the Bundestag. Both consoles are custom-built to satisfy space requirement, removing the multifunction panels and offering a single fader panel and the meterbridge. The monitoring panel is installed in the meterbridge and replaces the main screen.
More: www.stagetec.com