One of Sweden's best preserved wooden downtown areas, Säter is home to 4,400 people to the northwest of Stockholm. It is also home to the Säter Church, built in 1637 and reconstructed in Neoclassical style between 1778 and 1779. Its acoustics are challenging, and its old sound system failed to deliver.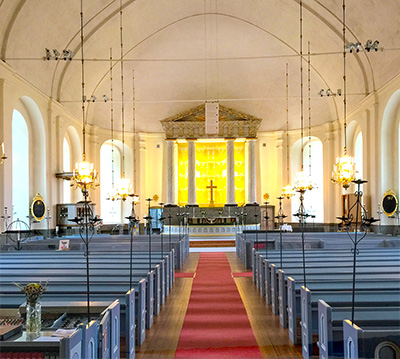 Calling on system designer, installer and contractor Robert Nilsson of DAT AB, the church recently installed a Renkus-Heinz Varia-series modular point-source line arrays and SA-series modular power amplifiers. 'The church had a reverb time of around five seconds, bad reflections and bad sound for the choir, even without a PA,' Nilsson explains. 'The only thing that sounded fine was the organ.'
In addition, aesthetics and respect for the historic structure were primary considerations. 'We could not use acoustic treatment, place loudspeakers in new positions, install conduit, or bring in new furniture for the mixing desk,' Nilsson says. 'And the budget was tight.'
The DAT AB team made an Ease model of the church and searched for a suitable loudspeaker solution. 'We quickly discovered that the Renkus-Heinz Varia system was the best system for our customer,' Nilsson reports. 'We made several Focus calculations so we could see that even coverage and smooth response could be obtained within reasonable limits. The customer was excited that we could deliver this coverage using the existing loudspeaker placement.'
After consulting with Renkus-Heinz, the DAT AB team decided on a Dante networked system based on Renkus-Heinz SA-series amplifier modules, driving three Varia VAX101-7 and two VAX101-22 modular point-source line arrays. SA Series amplifier modules offer full networking capabilities, Rhaon II control and monitoring, and analogue, AES/EBU, or Dante input and are available in three models that differ only in power output. The SA amplifiers enabled installation of a Dante-enabled system with lightweight Cat6 cables-a major benefit, given the construction limitations.
Renkus-Heinz VAX101 array modules employ one 10-inch low-frequency woofer and either one or two 1-inch, neodymium, high-frequency compression drivers, coupled with Renkus-Heinz' Tuned Conic Diverter waveguide. The VAX101-7 offers two high-frequency drivers, while the VAX101-22 has one. Both are available in 60º, 90º, and 120º standard configurations, as well as with 60º/90º and 90/120º transitional wave-guide options, and are arrayable from 0° to 7.5° in 1.5° steps.
'With only three piece of 16 mm pipe through the roof, we could use all safety wire, with Cat6 cable for the Dante network and Rhaon system control and 230V power,' Nilsson says. 'We installed a Dante-enabled Soundcraft Impact mixing desk, and thanks to our skilled employee, Björn Dahlström, we were able to reuse the old sound system furniture for the new mixer.'
Even with state-of-the-art amplification and loudspeakers, Nilsson and his team had their work cut out for them because of the acoustics. 'During tuning and commissioning, using AFMG Easra and SysTune audio measurement and analysis software, we finally got to the point where we could identify the frequencies of the reflections,' Nilsson recounts. 'The system is smooth to work with and allows for custom presets, so we could test and tune it to respond as needed, depending on the activity of the church.'
The Säter Church upgrade project was a landmark of sorts. 'This is the first Renkus-Heinz Varia installation in Sweden using Dante,' notes Nilsson. 'It worked so well that we're searching for a new project where we can install another Dante-enabled Renkus-Heinz Varia system.'
More: www.renkus-heinz.com