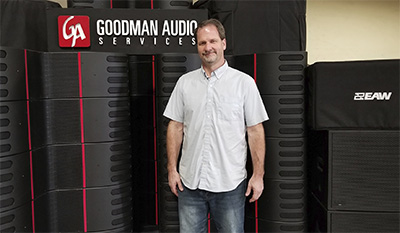 With a portfolio that includes William Morris Endeavor (WME), Guess, DreamWorks Animation, 20th Century Fox, the Academy of Motion Picture Arts & Sciences and video game developer Blizzard Entertainment, Santa Fe Springs, California-based Goodman Audio Services has recently joined the EAW Adaptive network with the purchase of an Adaptive line array system.
'The addition of the Anna line array is important because it provides us with technology that allows us a lot of flexibility,' explains company owner, Trace Goodman. 'When you are working on large corporate events where visual impact is as important as sound, it's terrific to have a product that you can hang straight – and out of the way – while still placing the high-quality sound where it is needed. That's exactly what Anna brings to the table.' 


Serving corporate event audio for more than 25 years, Goodman Audio Services has hundreds of EAW boxes in its inventory. Goodman notes that the sound quality and durability of EAW systems has kept them a staple in his business: 'We recently used 52 Anna modules and 12 Otto subs for an eGames sporting event at the Barclay Center,' he says. 'We put together a left-right system with three delay arrays that blanketed the space in even coverage – while still being powerful and intelligible. This is a perfect example of what the system is capable of.
'Corporate events are getting more and more sophisticated with greater audio demands,' Goodman concludes. 'The Anna system is flexible enough for anything I can think of. It's a tool in our arsenal that will allow us to grow and meet the demands of our clients for years to come.'