Live From Daryl's House began as a quirky muso moment on the internet when it first appeared in 2007, but has since become a fixture on cable, with more than 90 episodes aired to date. Hosted by Hall & Oates' Daryl Hall, it was initially recorded in his living room but has since settled in to Daryl's House Restaurant & Live Music Club in Pawling, NY – a 300-capacity gourmet eatery and music venue. Throughout its various iterations, all of the recorded performances relied on the ISA 828 Eight-Channel Mic Pre from Focusrite.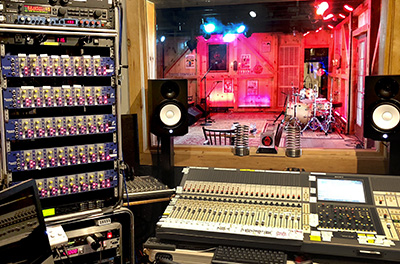 Hall's longstanding audio director and engineer Peter Moshay has been a fan of the 828 for years – a relationship that began with the original ISA 115HD Stereo Mic Pre/Equaliser.
'Ever since the ISA 828 came out, I've been buying them and using them, literally, on everything,' he says, having engineered Hall & Oates records and live shows for more than 30 years. 'The ISA 828 is the reason we've been able to have such a consistent sound to the show from different locations, and on the internet and on television.'
Moshay has a rack of six ISA 828 mic preamps, providing up to 48 channels of audio. As he built his collection, he found that not only did the ISA 828 provide the Focusrite sonic signature, but it also allowed him to minimise his equipment package, which was a huge help in the early years when the show was literally done from Hall's living room. 'We had to break down after every show, so the 828 really helped make that a lot easier,' he recalls. Since then, the ISA 828 has been the bedrock of the sound for both the show and the live venue, where Moshay records almost every performance. 'What I especially like about the ISA 828 is that it works for every microphone there is,' he says. 'In addition, you can vary the impedance from 600 to 6,800 [ohms], which can dramatically change the sound of the microphone, so there are so many subtle but important ways you can use it to shape the vocal sounds. It's gotten to the point where I don't have to spend time dialling in a microphone – the 828 has gain structure that is so predictable that I know what it's going to sound like before I even hear it, which is great when you get a last-minute addition to a show.
'My goal is to have the sound be a combination of sitting in the room with us and a well-recording album all at the same time – and the 828 sounds so good it sounds like it was done in a studio,'
Live From Daryl's House commences a new season in autumn, with expanded distribution through BMG, but the sound will remain as millions of viewers have come to expect, 'just as though you were with us in Daryl's living room – up close and wonderful.'
More: http://pro.focusrite.com