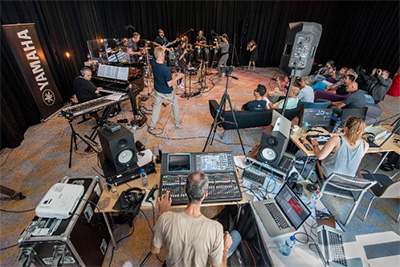 Attracting fans from around the world, the annual North Sea Jazz festival invites various surrounding events to its central location at the Hague Marriott. For the 2018 event, one of these was the Martin Verdonk Master Sessions in the hotel's large conference rooms, supported by Yamaha. The sessions aim to capture the pure essence of live performance.
Now in its third year, the Martin Verdonk Master Sessions were established by percussionist Martin Verdonk and sound engineer Lex Amrein and comprise live performances that are broadcast over the internet. 'We play four songs and are in and out in four hours, raw and uncut, with no overdubs or Autotune,' Verdonk says.
Initially, it was invited musicians who participated but, as the event's reputation spread, artists have asked to participate. Normally taking place six times a year at Lex's Triple-A-Music Studio in Almere, the sessions at the Marriott enjoyed Yamaha's support in providing equipment and associating the sessions with the North Sea Jazz Festival, in order to reach a larger audience.
Alongside Verdonk on percussion and Amrein mixing the sound, the performers included Daniele Chiantese (drums), Lorenzo Feliciati (bass), Richard Hallebeek (guitar), Manuele Montesanti (keyboards), Luka Van de Pol (saxophone), Amber Gomaa and Marvin Timothy (vocals).
Amrein mixed the session on a Yamaha QL5 digital console, using a Rio3224-D2 I/O unit as a preamp for multitrack recording to Steinberg Nuendo Live. He routed a stereo mix to a pair of Yamaha DXR12 speakers, which provided sound reinforcement for the exclusive audience, plus a pair of Yamaha HS8s as his monitors. Artists monitoring was via eight pairs of HPH-MT7 headphones.
The HPH-MT7s proved a popular choice, while Yamaha drums, grand piano, keyboards, bass, guitar and saxophone ensured that the artists had the best instruments to perform on.
'We are keen to promote great music via as many channels as possible, including social media, and are grateful to Yamaha for their support of the sessions at the Hague Marriott,' Verdonk says. 'The level of musicianship was very high and we look forward to returning again next year with more great, pure performances.'
As well as supporting the Martin Verdonk Master Sessions, Yamaha set up an intimate jamming-area in the hotel lobby for the duration of North Sea Jazz. Complete with a range of Yamaha instruments, relaxed, informal sessions took place every night until the sun came up…
More: www.yamahaproaudio.com