The inaugural edition of the Athens & Epidaurus Summer Festival (ADD 2018) took place recently at Athens' Peiraios 260 industrial warehouse complex. Bringing together a mix of high-profile international acts such as Amelie Lens, Apparat and Red Axes, along with DJs from the local scene, a total of 22 artists appeared on three stages.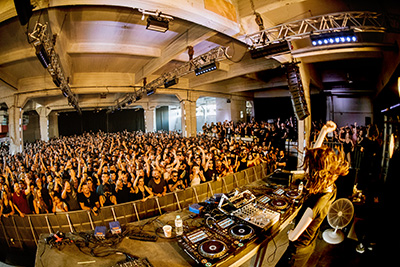 RM Audio – Martin Audio's newly appointed distributor for Greece – supported the event by providing a WPC sound system on main stage, with auxiliary systems on stages two and three, for the crowd of approximately 5,000.
On the main stage, RM Audio supplied eight aside WPC elements, Martin Audio's latest optimised line array, with iKon amplifier racks driving eight new SXH218 subwoofers, which provided bass. The stage was also populated with two XE monitors with W8VDQ as side fill.
Stage B featured eight aside W8LM with eight WSX218 subwoofers, while two Blackline X15 with two Blackline X118 subwoofers provided DJ monitoring, with two W8VDQ providing side fill. Finally, Stage C featured W8C and WSX subwoofers.
It was the first time that the spaces of Peiraios 260 had been used for an event of this nature and magnitude, and feedback from all the artists, festival-goers and press was overwhelming.
On the heels of similar events that have been staged for years in major European cities, Athens finally a contemporary electronic music event that is on track to evolve into something huge – the Peiraios 260 complex can host up to eight indoor and two outdoor stages, and more than 40,000 people.