Old Barn Audio (OBA) has completed its fourth high-profile project for the Lee Valley Regional Park Authority, equipping the Lee Valley Hockey and Tennis Centre at the Queen Elizabeth Olympic Park in London with a custom Martin Audio CDD-WR PA system.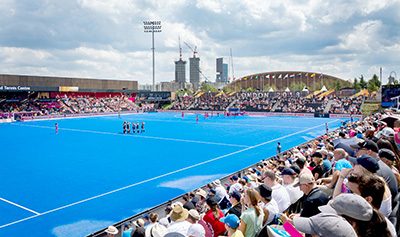 The £30m centre was opened in June 2014 and consists of two outdoor hockey pitches and four indoor and six outdoor tennis courts. The primary hockey pitch has a capacity of 3,000, which can be increased to 15,000 for major events. OBA's mission was to make the centre ready for a number of high-profile international events, starting with the Hockey Women's World Cup later this summer, after which the PA system will be reconfigured and extended.
In terms of both prestige and value the contract ranks high in OBA's portfolio. OBA Project Manager, Neil Kavanagh said his company entered into a fiercely competitive tender and provided the successful bid, demonstrating to the relevant bodies, including England Hockey, that Martin Audio's CDD series was best fit for purpose. In terms of both prestige and value, the contract ranks high in OBA's portfolio.
Using proprietary Coaxial Differential Dispersion technology and featuring user rotatable horns, the passive two-way CDD15-WR provides 100° x 60° dispersion.
Additional seating for the World Cup, doubling the capacity, will be accompanied by 17m-high scaffolding, with the bottom tier seating 5m above the pitch. The sound system will adapt to the different World Cup and European Cup scenarios before settling in as a stand-alone system. There are also numerous hospitality boxes positioned in the North stand for the World Cup – all receiving OBA installed feeds.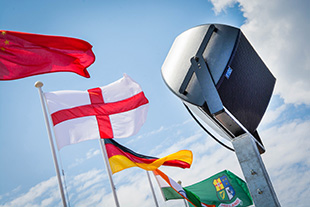 In the first phase, the West, East and South stands only have been equipped with a total of 18 CDD15-WR (15-inch) speakers, which have been customised and weatherised to IP65. This includes seven CCD15-WR on the West stand, mounted on 4.6m custom designed poles in landscape mode. A further five are situated on the south terraces, with another four under the existing cantilevered stand, which contains the press area. The final pair feed the seats to each side of this stand.
However, the present complement of 18 CDD15-WR will eventually rise to 23: 'For the World Cup the North segment will be occupied by portacabins for corporate hospitality, and a broadcast centre,' Kavanagh explains. 'This will make way for t he final five enclosures to be installed post World Cup on custom poles in the North stand. These speakers meet all the power and dispersion requirements, and exceed the IP rating of any competitor. We have been able to run the CDD15 without sub extension as they contain extended low end. Every single speaker has its own amplifier and DSP channel.'
Completing the contract, OBA has supplied a 32-channel Soundcraft Si1 and custom designed software run through a Symetrix Radius DSP with its own PC, enabling it to be zoned from a touch screen. 'We've also organised the radio system so it can be used in every seat without drop out, and supplied tie-lines over the console's digital matrix for broadcast purposes.'