Replacing an outdated console that no longer met the requirements of its programming, HITS FM radio station has installed a Lawo crystal radio broadcast console – the first placement of a Lawo system in Nepal.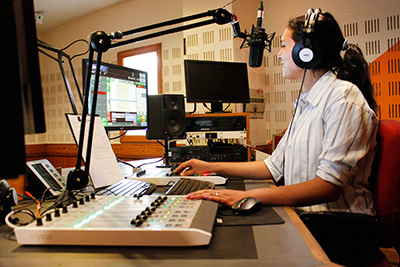 Chosen to serve lively programming and modern workflows using advanced efficiency and flexibility, the updated studio was unveiled in a recent inauguration ceremony overseen by independent technical consultant, Ram Saran Karki.
After thoroughly researching the market and scrutinizing several manufacturers' products, Lawo most impressed the technical team with the quality, flexibility and ease-of-use of its consoles. A key consideration in HITS FM's choice was Lawo's growing popularity and innovative solutions for radio broadcast. The decision process included discussions between the station's technical and management team, and Lawo Sales Director for Southeast Asia, Tan Boon Siong, who answered the team's questions with detailed information about the crystal console, its technical integration and the workflow options it offers. Also in focus was the support Lawo could give to customers.
After a few months of debate, Lawo was awarded the order and delivered a 12-fader split version crystal with countersunk kit and analog extension IO.
The radio broadcast mixing system was delivered with pre-configured settings. After two phone calls between HITS FM's independent Technical Consultant and Tan to understand the basic set-up, the team was able to modify and fine-tune the system – a clear indication that the crystal with the powerful VisTool is easy to set up and adapt to the requirements and to provide full functionality for different operational needs.
Crystal is the cost-effective entry point to Lawo world of mixing, offering flexibility of operation with a future-proof investment for both commercial and public broadcasters. Along with Ravenna/AES67 compatibility, the latest generation of crystal mixing consoles comes with VisTool, touchscreen-optimised PC software for extended visualisation and control of crystal installations. In its basic version, VisTool is designed for clear visualisation, while the unlimited version of VisTool can be customised to meet any requirements, displaying all parameters or only those essential to operators' needs.
More: www.lawo.com