Founded in Japan in 1909, Ajinimoto Foods is a the global firm famous for its discovery and use of Umami, the 'fifth taste'. Ajinimoto's R&D presentation room at its North American headquarters is a special space, hosting the company's tastings and presentations, requiring a sound system with particular capabilities. Together, ClearTech Media and Pacific AV solved the issues using Renkus-Heinz loudspeakers.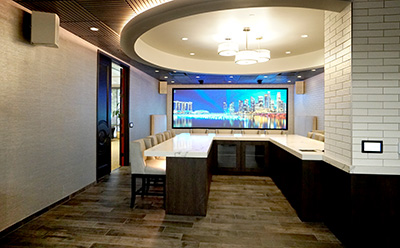 'The challenge in this space was to provide an immersive dining experience,' begins Pacific AV Vice President of Sales Jeff Miranda. 'This space had its challenges due to the boxiness of the room and lots of glass, marble, and other highly reflective surfaces. We needed a solution that would provide high directivity with a minimum of reflections off all of these surfaces.'
To create the immersive experience Ajinimoto sought, the ClearTech/Pacific AV team designed a surround audio system based on Renkus-Heinz CFX61 loudspeakers. 'We selected the CFX Series because it provided the directivity and control we needed,' Miranda explains. 'Best of all it fit within the customer's budget.'
Designed for both portable and installed systems, the compact CFX61 employs a 6.5-inch woofer that can handle 120W of programming power, along with a smooth-sounding, low-distortion, 1-inch extended-range, titanium high-frequency driver. As with all CFX Series loudspeakers, it features Renkus-Heinz' Complex Conic Horn design, which offers 150° by 60° dispersion with constant beamwidth/directivity. This combination provides outstanding full-range performance of 80Hz-20kHz (±3dB).
Pacific AV selected the non-powered CFX61 for Ajinimoto's room, matching the loudspeaker with a Linea Research XiB4 four-channel, class-D power amplifier. The XiB4 can deliver up to 5kW RMS total, includes onboard DSP, and supports USB and BvNet network operation. Ajinimoto's staff can easily control the system using a Crestron touch panel.
ClearTech specified a white enclosure to blend in with the space's white walls, maintaining the room's aesthetics. 'The Renkus-Heinz CFX61 was a great choice for the space,' asserts Miranda. 'The customer and the guests have been thrilled with the immersive experience the system delivers.'
More: www.renkus-heinz.com