One of the largest and most popular dining entertainment venues in Norway, Wallmans Oslo offers a nightly gourmet four-course dinner, nine different performances, and a lively after-show party. When it came to upgrading the venue's audio system, Technical Manager Ray Hem called on Scandinavian distributor and system designer, avon, to specify a new solution.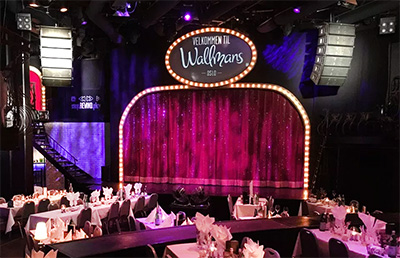 'Many customers attempt to influence installs with their knowledge of home audio, but Raymond is a highly-regarded front-of-house technician with more than 4,000 shows under his belt at Wallmans, 2entertain and other venues throughout Norway,' says avon Lead System Designer and co-founder, Edgar Andraa Lien. 'He is a true professional audio guy who knows exactly what needs to be changed, added or adjusted, without being distracted by details that simply burn time and energy.'
The goals for the Wallmans audio update were fairly straightforward – to deliver concert-grade sound that would appeal to the growing roster or discerning talent and guests, offer exceptional fidelity with ample headroom and low frequency extension to address a mix of music styles, and be up and running in time for the unveiling by May 2018.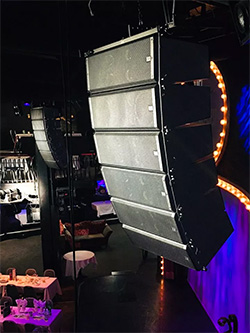 Drawing upon numerous prior successes with Vue's al-Class line arrays, the avon solution consists of left and right hangs of six, mid-format al-8 elements each. The avon team incorporated custom fly bars to save both weight and space. Three Vue al-8SB subwoofers are stagestacked for low-frequency support. Front fill and out fill coverage comes courtesy of seven Vue a-10 full-range systems, with an additional four Vue i-8 compact full-range systems providing delay.
Line arrays, subs and support speakers are all powered by five VueDrive V6-d Series Systems Engines. Both Dante and analogue signals are fed to the VueDrive units from a Soundcraft Vi-3000 console at FOH. All 30 V6 output channels are in use, with full user control available form the front panel of the rackmount VueDrive units, or remotely via iPad or Mac.
Wallmans all-Vue solution has been up and running for just over a month, and feedback so far has been positive: 'The Vue speakers offer so much detail that my mix really comes to life,' says FOH technician Sigge Rønning. 'The al-8 is virtually invisible to my ears. It has a wide-open voice that allows me to place the source of the sound right where I want it in the mix. I'm free to create an experience where sound is coming from something on stage, rather than from a speaker hanging above or to the side of the stage. I have never experienced anything like this before.'
'With great help from avon, we now have a speaker system that covers all 600 seats equally,' Hem adds. 'The transition between top and sub is just amazing. I wanted a system with better definition in the low end than before, and I must say that Vue delivers way beyond my expectations.'