Amsterdam's WarnierPosta is the latest independent audio postproduction studio to adopt a Meyer Sound monitoring system. The facility recently added a Dolby-certified Atmos re-recording room, where the system is installed. The new studio is housed in the 1,100sq-m premises, which has its name on a number of notable film productions, including two selections for the 2018 Cannes Film Festival.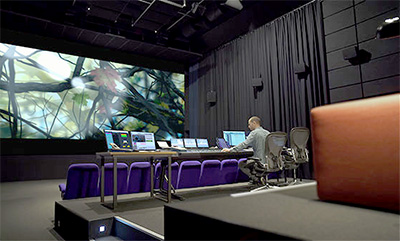 The Atmos room's main front screen channels are Acheron 80 loudspeakers, with four HMS-10 loudspeakers expanding the front sound field. The remaining lateral and overhead surrounds are HMS-5 loudspeakers. LFE is delivered by three X-800C subwoofers with two additional X-400C subwoofers for surround bass management.
'As a re-recording mixer I have worked in a number of other studios in Europe with Meyer Sound monitors,' says Peter Warnier, who is also the principal partner of WarnierPosta. 'Every time I mixed on the Meyer Sound systems I noticed the open quality and the tightness of the low end. I also experienced less fatigue when working on them for long periods.'
Warnier sensed a growing trend among other top-ranked independent audio post houses. 'Many other studios around the world are now equipped with the Meyer Sound systems and I was looking to have compatibility with these other leading facilities,' he says. 'Also, I've found that most of my colleagues want to work on the Meyers.
'There is really no discussion anymore,' he comtinues. 'Everybody wants to mix in here now on the Meyer Sound monitors – though there are other good reasons for mixing here as well,'
Other equipment in WarnierPosta's Atmos mixing room include 4K Barco digital projection, Barco 4K DCP server, Avid Pro Tools HDX recorder/player systems, Avid S6 control desk, and high-end effects units from TC Electronic and Lexicon.
Established in 1983, WarnierPosta is the Netherlands' leading audio post facility for feature films and high-end television/VOD production. Services include sound design, ADR, Foley and re-recording for the final audio mix. WarnierPosta also operates a sister facility, Cinenumerique, in Antwerp, Belgium.
The Meyer Sound systems were supplied by Audio Electronics Mattijsen (AEM) of Duivendrecht.
More: www.meyersound.com