Long-time reseller of Martin Audio solutions in Pacific Asia, Eric Haslim has set up PT Rhema Multi Perkasa (PT RMP) to market the brand in Indonesia. Martin Audio had previously worked with Haslim over a number of years with previous distributor, PT Citra Intirama. 'From the day I realised that a premium product like Martin Audio required a specific sales and marketing strategy, my intention was always to set aside a specific team of people that were passionate and competent in handling all aspects of professional audio,' Haslim says.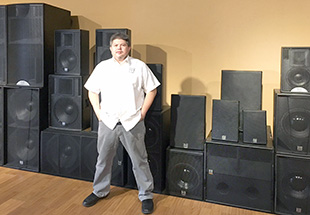 'Since PT Citra Intirama was first trusted to represent Martin Audio in the 1990s, the market has changed and evolved. As we enter the age of the internet, the traditional business model of distribution no longer can sustain the competitive world we now face.'
After witnessing numerous changes during the 14 years of handling Martin Audio as part of the family business, the transition from PT Citra Intirama to PT Rhema Multi Perkasa was relatively smooth and painless, he says: 'As the idea of taking Martin Audio out of the family business and running it independently has always been something that Leo Saleh (my uncle) discussed on many occasions.
'At the start of 2018, we decided that I'd take the brand and give it a fresh breath of air by running it independently. It was simply a case of formalising the change and acquiring the approval of Martin Audio top management.'
Martin Audio in turn knew that Eric Haslim's passion for its signature sound extended right back to the days of EM series and Blackline. 'We now intend to provide an outlet that's fully equipped and dedicated in promoting Martin Audio's brand existence by building a larger market share in Indonesia, with the independence to do so.
'There are certainly untapped markets within the vast area of the Indonesia archipelago. It is my intention to build a network and channels to reach out into these places and establish Martin Audio presence there.'
Another factor in the transition was the mutual understanding between Haslim and Martin Audio's Andy Duffield. 'Ever since he took responsibility for the Indonesia market, I believe it's the trust that's been established between us that cemented the foundation for my new company taking over distribution.
'We have seen the surge in the Martin Audio line of products over the past four years. Thanks to the advances in social media communication, we are now able to see latest project installs in the likes of Twitter, Instagram and so on. However, having handled three major launches of Martin Audio products personally, I know nothing beats seeing the audience expression when they hear the products at workshops, seminars and demos.'
And taking into account the current market situation in Indonesia, he foresees a promising future for CDD and Blackline X in the wider commercial fixed install market: 'At the same time, we are of course continually eyeing large important installs such as auditorium, clubs as well as potential rental companies willing to invest in Martin Audio WPM and WPC.'
More: https://martin-audio.com