Having once aspired to be a serial killer profiler, Wes Maebe was thrown out of his Christian college in Belgium for 'not being religious enough'. His father, an engineer for Studer and EMT, suggested he try sound recording. Maebe headed to London's City of Westminster College, then after graduation worked at Belgium's Galaxy Studios before returning permanently to London, where over the past 15 years he's amassed hundreds of credits with the likes of Celine Dion, Thursten Moore, Carly Simon, Elliott Randall and UB40. Today, he divides his time between his own Sonic Cuisine studio and working as staff engineer at Mickie Most's RAK Studios.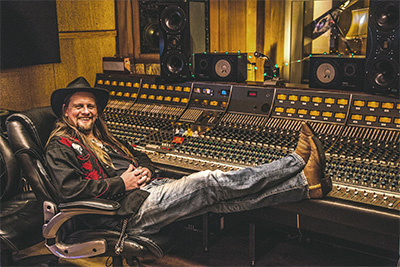 Clients describe Maebe's sound as 'a bridge between old-school British engineering and lush American production values'.
'For me the British sound is a bit more edgy, it's a bit more cranky, a bit more organic,' he says. 'But I've always sort of veered toward the lushness of American sounds – nice and polished. If I can mix completely analogue, I will do that very happily, because that's how I prefer to work.'
The racks at both RAK and Sonic Cuisine are loaded with European and American gear, reflecting early Beatles influences. 'You just have to look back at George Martin and the guys at Abbey Road,' says Maebe. 'They went to the States to figure out what it was that made the American records pop out through the speakers. The English guys generally come from broadcast, so they were a bit safer in their sound. Things that came from the States were just loud and punchy, and they said, "ah, so that's what we need".'
When Maebe chooses a processor, he weighs its sonic character over its feature set: 'I want something that will add something even when it's not being used,' he says. 'I think versatility isn't that important. If I need something specific, then there will be a tool that does it; I don't need everything in one box.'
Manley is in Maebe's rotation wherever he works. He uses a Massive Passive and Variable Mu at RAK and a Mini Massive at Sonic Cuisine: 'At RAK, we've got a floating Vari Mu. When I'm in the studio, I'll earmark that. I have to have that in the room.'
He says nine times out of ten, an entire album will go through the Vari Mu. 'The latest UB40 record, A Real Labour of Love, every song went through that as the final stage. Everything has been Manleyfied.'
Maebe likes the tape-machine-style warmth that the Variable Mu adds to his mixes. 'When you're happy with the mix and then you put the Vari Mu on, it just glues everything together,' he says. 'Every time I switch it on, the client just goes, "whoa, what was that? That's awesome. Do not get rid of that".'
He often adds a Massive Passive after the Variable Mu as a final EQ stage. 'It just creates that thing that George Massenburg told me is the air band,' he explains. 'It puts space around everything without getting screechy. Then on the low end, same thing. It's nice and fat without being smushy. Just a bit more definition on everything.
'I can put 27kHz on a wide bell, a little boost there, and then the low end is usually 68Hz on the Pultec shelf, a little boost,' he says. 'It's great sometimes if I'm mixing in-the-box and something doesn't have enough life in it, like a snare drum or something. It's not a one-trick pony; I use it a lot on vocals and drums. That's what's great with the Manley stuff. You can just gently use it on something and it makes a massive difference.'
More: www.manley.com