'It doesn't make any sense to have great mics or a powerful computer if you have a poor interface with sub-standard preamps and A/D converters,' says Kevin Sones of Earsightmusic. 'Every part of the signal path has to be pristine; this is why I trust [Audient's] iD22 to be at the centre of my system.'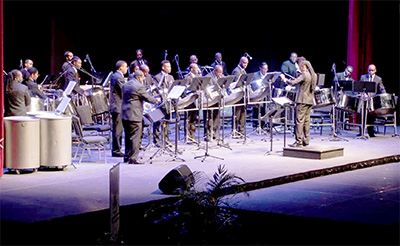 Sones uses the iD22's Adat expandability by connecting it to his Audient ASP880 eight-channel mic preamp, giving him access to up to ten inputs. Together the two units are integral to his work recording live bands and orchestras around the islands of the Caribbean, including Dominant Seventh, the National Steel Symphony Orchestra of Trinidad & Tobago as well as the National Philharmonic Orchestra of Trinidad & Tobago.
Sones has been delivering training courses for Earsightmusic as a part of their installation and equipment sales packages. In 2017 Earsightmusic launched its Live Sound Engineer Training Workshop series in the Caribbean region, delivering theoretical knowledge as well as hands-on experience in live sound engineering. One of the modules Live Sound Recording, specifically focuses on multitrack as well as stereo recording principles and techniques.
'To accomplish this, we set up a full sound system with ancillary equipment for the participants to interact with. This includes playback and recording devices such as the iD22 which we set up as part of the system,' he explains.
The second level of the Live Sound Engineer Training series travels to five Caribbean countries, following great success with the initial Headroom: Live Sound Engineer Training (Level 1) course debuted in January 2017. 'Both workshops will be introduced to five additional countries this year,' Sones adds.
'High-quality sound is the main thing that separates me and my work from other engineers,' he continues, insisting on using his iD22 in the training sessions as well as his recordings. 'It gives me the unquestionable quality I can rely on. Many companies do a good 'on paper' presentation of their product, but what speaks to me is the actual quality of the end product. That quality is indisputable and sets Audient products apart from many others.'
With a full list of workshop dates available on the Earsightmusic website, and a number of recording assignments already in the diary after this set of courses, Sones is keeping very busy.