New York City production company PCA Audio Design recently used its Allen & Heath GLD-80 digital mixer for FOH and monitors at this year's Project Dance in Times Square – an annual event, founded by former Rockette Cheryl Cutlip, featuring dance groups from all over America.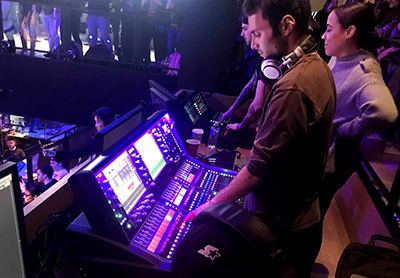 PCA President and founder Pat Alapa says his company has provided production audio for Project Dance for more than 16 years: 'I've used this particular GLD for four years now and it's a workhorse for us,' Alapa reports. 'The Allen & Heath boards are well thought out, and you can get a good mix right out of the gate.'
Alapa also used the GLD-80 at a recent Chanel marketing meeting in California: 'I set up scenes during rehearsal for each segment of the meeting,' he says. 'We stored EQ, compression, level and routing. That way, I didn't have to worry as we switched mics during the show.'
He also used the GLD's AMM automatic mic mixer for Chanel panel discussions: 'The auto mixer is a big help when you have six or seven people on stage and want to keep the mics up without driving into feedback.' he says, 'I've got some outboard tube compressors that I really like but, for the most part, I just use the GLD's internal compressors, gates and other effects. For ease of use and overall flexibility, you just can't beat the Allen & Heath effects package.'
PCA provides production audio with its Allen & Heath mixers for events ranging from concerts and music/dance festivals to corporate meetings and award ceremonies. At a recent Hayley Kiyoko concert in New York, PCA provided the dLive S Class digital mixing system used at FOH. The dLive will also mix FOH in June for the New Jersey Anime Next event, where PCA provides sound, lighting and projection services.
'I'm pretty much an Allen & Heath company,' Alapa admits. 'We still own a GL4000, GL3300 and GL4 analog mixer. So, going into the digital world, I stayed with Allen & Heath. I love the sound quality and functionality and the consoles are well-constructed. Allen & Heath has always delivered for us.'