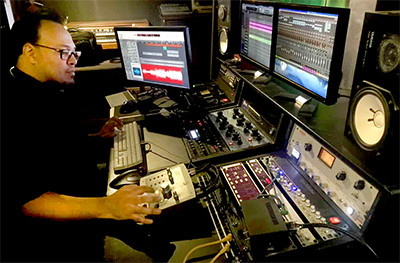 Having said goodbye after a 12-year career with a 2012 farewell tour, ADios Gracias, in 2012, Mexican four-piece Christian rock band RoJO have reformed with a new album and tour. The album ends an eight-year hiatus, with guitarist, songwriter and producer Oswaldo 'Os' Burruel has relied on an Audient iD22 audio interface to record all guitars and some of the keyboards, and mixed everyting using the retro channels of his Audient ASP880 eight-channel mic preamplifier.
'These days you don't need to have thousands of dollars worth of equipment,' he says, stressing that it's all about knowing what to choose. 'You need a good instrument, a good microphone, a good preamp and a good converter – Audient products have it all.'
Burruel explains that his iD22 has everything he needs to hand: 'I can record any acoustic instrument with a microphone or simply connect my guitar or bass to the dedicated input. You can really hear the difference. I can also use my outboard gear for the insert inputs – this is fantastic and I haven't found this option in any other interface at this price range.
'I also love the monitoring – connect two pairs of speakers, check my mixes in mono, check phases and use talkback if I need it,' he continues. 'The most important thing is the quality and sound of the preamp. It sounds very musical on any instrument I record – in any style of music, too. The converters are the most faithful that I have heard.'
Making the most of iD22's expandability, Burruel adds ASP800 to his set-up, giving him up to ten inputs for recrding drums or the full band. 'It's the same quality of preamp, but I always use the two retro channels in kick and snare giving more attack and definition – the perfect couple.'
RoJO's current tour will cover a lot of Latin America extensively, including dates in Mexico, the US, Ecuador, Chile, Colombia, Bolivia and Argentina.
More: www.audient.com