Outdoor audio installations in urban environments invariably present challenges, some unique. Those challenges are acute at one of the most visible A/V projects Hong Kong's history – Asia-Pacific's largest LED screen located on Causeway Bay, one of the city's busiest thoroughfares.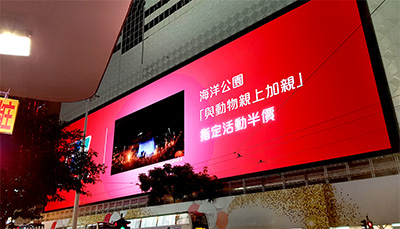 The unmissable 230ft x 53ft video screen adorns the exterior of the flagship Sogo department store, itself a Hong Kong's icon. Ensuring that the screen sounds as impressive as it looks are two 12ft Renkus-Heinz IC Live Triple column line arrays, delivering highly targeted and transparent audio.
Ian Harris, President and Principal Consultant of ihD Ltd, was engaged to advise on the project and quickly realized the breadth of the noise issues facing the installation. 'Down in the street we measured a standard level of 75dBA to 85dBA (weighted) of traffic noise, so we knew our main challenge would be to get the sound or speech across to people through this level of background noise, but without incurring complaints from other traders or the local authorities,' he explains.
The onus was on Harris and his team to deliver clear, consistent audio, but to ensure that it only reached those to whom it was directed – namely pedestrians at street level. 'For those reasons it had to be a beam-steered column array,' he says, 'and Renkus-Heinz IC Live is really the only one that can offer extended bass for the low frequency content.'
Harris employed Ease modelling and ultimately arrived at a straightforward solution comprising two columns of three IC Live Triple column arrays apiece: 'We face tropical storms, typhoons and – even in less dramatic periods – salty rain coming off the ocean, so the loudspeakers were provided in weatherproofed finishes,' says Patrick Leung, of regional Renkus-Heinz distributor CAH Professional Sound.
The installation took place over the summer, after which Harris and his team cautiously began to put the system into action. 'We started at a low level – not even 5dB above the traffic noise level – as we were very keen that the system should not interfere with the activities of other stores,' he stresses.
In addition to relaying a wealth of pre-recorded advertising content and messages, the new system is also expected to deliver live interviews from the shop-floor and the street below, and to this end the installation involved the provision of multiple camera and microphone feeds around the site.
'The system is sounding good,' Harris reports. 'The use of processing to compress signals in order to really define the range has definitely helped us too.'
More: www.renkus-heinz.com