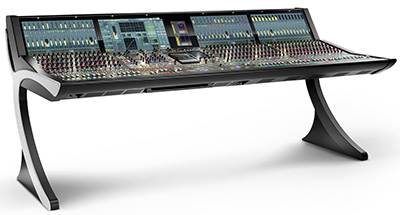 Although currently still under construction, radio programs produced in the Studio Eins (Studio One) control room at German public broadcaster Saarländischer Rundfunk (SR) are already benefitting from the use of a Lawo mc²96 production mixing console.
All of Saarländischer Rundfunk's radio live broadcasts and concert recordings originate in Studio Eins – the broadcaster's Event Studio. In addition to podium discussions, the studio hosts jazz and French chansons, as well as regular radio concerts and unplugged sessions with artists currently in the charts. These productions are used for radio broadcast and CD releases – mainly jazz duos and big bands, but also regional music ensembles. In addition, mobile productions and external concert recordings are edited in Studio Eins.
Integrated via Ravenna, the new console is presently equipped with 40 faders, but its frame can accommodate a further 16 faders and is configured for 184 DSP channels (up to 888 possible DSP channels). It has a routing capacity of 8192x8192 mono channels and supports from 44.1-96kHz operation. For maximum I/O flexibility in the studio, a Dallis frame is available with AoIP options and a Nova router. Local I/O provides full connectivity with 16 high-quality mic/line inputs, 16 line outputs, eight AES3 inputs and outputs, eight GPIOs plus a local Madi port (SFP). A built-in switch provides four Ethernet ports with network connectivity via two redundant SMPTE2110/AES67/Ravenna ports with seamless protection switching.
SR's console features a range of innovative mix-assist systems, allowing the sound engineers to focus on balance and sound quality – such as Automix, which automatically adjusts the levels of active and inactive microphones while maintaining a consistent, natural-sounding ambience.
In addition, the mc²96 has an integrated high-quality Loudness Metering with Loudness Control in accordance with ITU 1770 (EBU/R128 or ATSC/A85). The Loudness Metering can measure full transmission busses and individual channels, allowing for quick and convenient 'visual' mixing in multi-microphone set-ups.
'The cooperation with Lawo is going well and we always have a contact person who cooperates with us in a solution-oriented way, even for complex requirements,' says Systems Engineer Amanya Abega Laurence Lise, who is responsible for the ongoing project. 'And the sound engineers who work on the new mc²96 feel very comfortable at their workplace.'
Due to constantly changing requirements, SR's mc²96 operators have been particularly impressed by the ergonomic interface and its customization options, and with the integration of the Waves SoundGrid server.
More: www.lawo.com