Sarah Brightman called on Allen & Heath dLive systems for both FOH and monitor duties on her recent Royal Christmas Gala tour.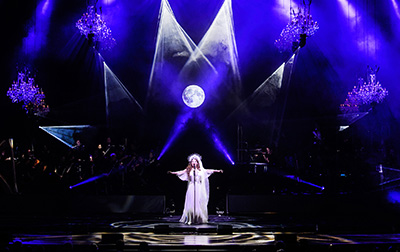 The two-month tour of Europe saw Brightman perform her own hits, alongside popular Christmas carols. The show included a full band and orchestra, five solo singers and an eight-member Gregorian choir. Allen & Heath's dLive S7000 surfaces performed both FoH and monitor duties, combined with two DM64 MixRacks, plus DX32 and DX168 I/O expanders.
The monitor engineer was Lewe Redlin, who also mixes for Jan Joseph Liefers, Alvaro Soler and the Gregorian choir project: 'The particular challenge of this production is its size,' he explains. 'My dLive has 120 inputs connected. On top of the inputs from the stage, we have three different click tracks and various talkback channels that allow communication between all parties and the MD.
'There are 20 stereo mixes, including 16 in-ears and additional wedges and side fills. The freely configurable layout of the dLive really helps me to keep track of everything at all times.
'I find dLive's sound very pleasing, almost analogue, which makes it very easy for me to mix with,' he adds. 'With features like the Dyn8 and the different types of compressors – I especially appreciate the 16T – it offers really extensive processing capability. Another feature that stands out from other consoles is the ability to submit subgroups to aux.I can simply group the orchestra and send it to the musicians and singers as required.
'dLive offers a variety of options that are simply not available from other products in its class, especially when it comes to productions with high channel counts,' he concludes.
More: www.allen-heath.com