The Middle East's first resident show features 65 artists including acrobats performing aerial and aquatic stunts, and diving into an on-stage pool. Being called 'a new era of entertainment', La Perle by Dragone is now being staged in a lavish 1,300-seat theatre built specifically to accommodate it in the heart of the newly constructed, multi-use Al Habtoor City in Dubai.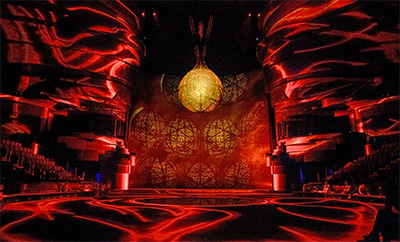 Five years in the making, La Perle is one of Franco Dragone's most ambitious projects to date – and he is one of the creative minds behind Cirque Du Soleil. In 2000, Dragone set up his own company (eponymously named), which has been behind shows including Celine Dion's Las Vegas residency, The Dai Show, The Han Show and The House of Dancing Water in China, Le Rêve in Las Vegas and Lido – Paris Merveilles in France.
The audio design fr La Perle was conceived by Dragone, and is based around an L‑Acoustics Kara system, chosen for its compact size, light weight and waterproof rating, along with L-Acoustics' new Syva colinear source system, chosen as the ideal solution for a set piece that has space constraints.
The Al Habtoor theatre is not only vast, but is a complex space, with real estate for its L-Acoustics audio system shared with automation lines, water pipes and nozzles for water effects, as well as lighting, projection and rigging.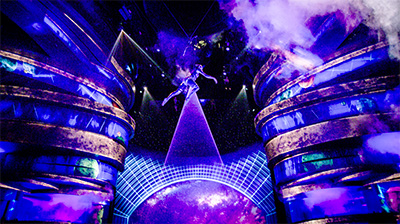 When La Perle was in its initial stages, Solotech's integration division was introduced to Al Habtoor by Dragone to provide integration support and equipment for the complete multichannel sound reinforcement and video systems for the theatre, as well as all onsite installation supervision, labour, project management and logistics.
'Once we were appointed, the system design evolved along with the creation of the show,' says Bob Barbagallo, Solotech VP of Project Development. 'We had evaluated several products and proposed Kara for its clarity, intelligibility and compact, lightweight design, with the SB28s and SB18i subs selected for low end reinforcement and 12XTs added for high surround in the second ring. We also had several rigging challenges which Kara's rigging system helped simplify during the installation.'
'My aim was always to make this a completely immersive experience,' explains Dragone Sound Designer, Sebastian Hammond. 'I wanted to detach the audience from the world and their daily lives right from the moment they walk into the theatre. Dragone shows always push the limits of technology and La Perle is no exception; there is an immersive video system that surrounds the audience, so we needed to work with the video and immerse the audience in sound as well. The system also needed to be powerful, as these shows can be quite dynamic, ranging from an intimate a cappella voice to powerful drums and even a thunder storm.'
The main system over the wet stage comprises left, right and centre hangs of six Kara topped with an SB18 sub, plus two further hangs in the same configuration sitting either side of the proscenium to create a wide stereo image. Adjustments to the original design were made during the installation to take account of the reality of the theatre, ensuring clearance of winch lines and water effects, with the four LA4X and 19 LA8 amplified controllers driving the system located in a rack room to isolate them from moisture, while Kara's IP55 rating affords it protection against the water jets.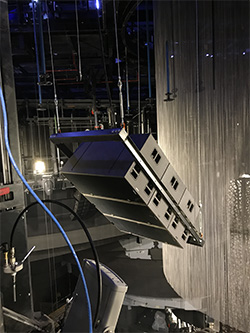 'In the early days of water system testing, a rain nozzle became unfocused and sprayed high pressure water straight into the front of a Kara array,' Hammond recalls. 'This is always a risk in these environments and can be devastating, but L-Acoustics' Julien Laval assured me the speakers would be OK once the array had dried. I ran Smaart through the system the next morning to see if there were any issues and it was just like new. This is a huge bonus for an environment like this.'
During the installation, Hammond needed to add an image to a set piece in the theatre that, architecturally, did not allow him much space to fit loudspeakers.
'It was a small space and I needed a big image,' he says. 'I was lucky that Syva became available at just the right time. It's quite outstanding and was the ideal solution, its shape and compact size making it the perfect fit for the design limitations we had and the sound exceeded my expectations; it's an exceptional sounding speaker with great power and clarity, we can get a throw of up to 30m, and it's consistent with Kara, so we could use Syva to extend the image of the main system.'
As a whole, the system has provided everything needed of it, with LA Network manager looking after processing requirements, which the team has found straightforward and easy to use. The 'fallback' mode featured on the LA4X and LA8 amplifiers has also been a big advantage; AES inputs are used in show mode, and if there is a problem with the AES side of the system, 'fallback' can be triggered to switch seamlessly to the analogue inputs.
'We were fortunate to have Solotech looking after our sound, video and communications installation from the ground up,' Hammond says. 'The L-Acoustics system sounds fantastic, it is really impressive how little work is needed to make it sound great. The clarity and power is very impressive for the size of the speaker and it's a fantastic choice for this environment.'