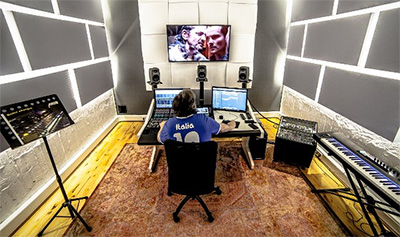 A new initiative between global education provider SAE Creative Media Institute and Yamaha has seen Yamaha Nuage DAW systems installed at SAE campuses in London, Milan, Berlin, Hamburg, Munich and Hannover, with more to follow.
Established in 1976, SAE is one of the world's largest providers of audio education programmes. With more than 50 campuses in five regions, including six in Australia, the Institute offers government-accredited certificates, diplomas and bachelor programmes across disciplines ranging from business music to animation, film, games and web/mobile. Students work in small classes, learning in world-class facilities from teachers with extensive professional experience and benefit from the Institute's strong connections with industry. For its part, Yamaha supports the training of audio professionals via the its YCATS training programme, and through other companies and education providers.
Based on Dante audio networking, Nuage is Yamaha´s postproduction controller system for Steinberg Nuendo but can also be used to control Pro Tools, making it a flexible system for enhancing engineer workflows in a number of areas of the industry.
'Being a manufacturer in the professional audio industry makes you constantly aware that the market needs highly skilled people, who know their trade and are familiar with current technologies,' says Yamaha Music Europe Product Manager for Music and Post Production. Christoph Härtwig. 'What we are providing is more than a typical industry-educator partnership. Yamaha and Steinberg are actively supporting SAE by providing insights on use cases and developments in pro audio, which are not necessarily only related to our own products.
'Working closely with SAE, providing our experience and knowledge, is an opportunity we welcome. At the same time it is a learning experience for us, because working with teachers and learners is always inspiring.'