Originally a church, and previously used to host acoustic artists and theatre performances, the Ryman Auditorium in Nashville recently hosted a sold-out homecoming show for The Cadillac Three. The venue's limited space meant the band needed a compact and extremely reliable method of capturing the once-in-a-lifetime performance, choosing JoeCo's BlueBox BBWR24MP audio interface recorder for the job.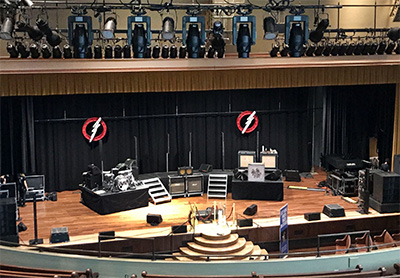 The Ryman presented challenges to the band, production manager Chris Grainger and sound engineer Nate 'Pittsburgh' Dickinson that went beyond space – while the venue has its own recording facilities, both budget considerations and the need for a reliable recording solution led Grainger to contact Dan Bostick of Full Scale AV, who suggested the BBWR24MP.
'The BlueBox BBWR24MP was a great alternative to the expense of hiring The Ryman's second floor studio and engineer without compromising on audio quality,' Grainger explains. 'There were no hitches whatsoever, Nate Dickinson and I were able to pop the BBWR24MP in as the complete interface and all the channels showed up immediately, we got the computer talking to it really quickly. It was super simple.'
After the show, Grainger returned to the studio and transferred the recordings from the external USB drive. 'All of the source recordings were of such a high quality that it sounded exactly the concert I heard in the room that night. I was instantly transported back into that magnificent space,' he says.
Grainger is now planning to use the BBWR24MP for future live audio recordings with The Cadillac Three, as well as for other projects. 'I do a lot of studio work and I do a lot of live recordings, so now I can literally travel with a backpack and get the same quality recordings as before, and have a master rig and a redundant rig all in one backpack,' he says. 'It's revolutionary.'
More: www.joeco.co.uk