Rental company Línea Estrategica, provided the audio system for the Colombia stage of Pope Francis' visit to South America, where more than a million faithful braved rain and fog for an outdoor mass at the Olaya Herrera Airport in the city of Medellín the third stop on his five-day visit to the country.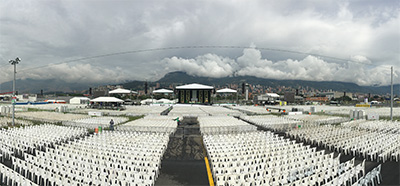 Ensuring even coverage across the site – which was 1km in length and 200m wide – required meticulous planning and a vast L-Acoustics loudspeaker system that totalled in excess of 300 cabinets. Linea Estrategica used L-Acoustics proprietary 3D sound system design programme, Soundvision, to devise a system of 24 distributed arrays along the runway, each comprising 12 K2 topped with a K1-SB sub, plus five arrays of ten Kara.
This relatively simple set-up required throws of no more than 80-90m which, says L‑Acoustics' Alex Soto who helped design the system, was no challenge for K2. However, heavy rain and electrical storms posed their own challenges for the crew, the audience and even the Pope, who was delayed by 30 minutes due to the weather conditions, but with K2's IP55 weatherproofing, this was not a problem for the system itself.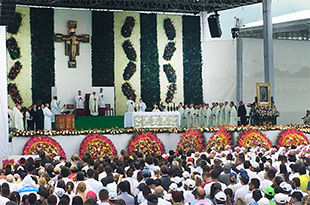 The Linea Estategica team are no strangers to such challenging events. In 2015 in Quito, Ecuador, more than 1.5m people attended Pope Francis' open-air mass in the city's Bicentennial Park. This was the first visit to the country by a pontiff in 30 years and thousands had camped overnight to hear him, having made the journey from across Ecuador and its neighbouring countries. Here, Línea Estrategica had been contracted by the Government of Ecuador and managed both audio and video requirements for the event.
'We had to cover an area that was a kilometre long by 800m wide and held around 1.7m people,' says Línea Estrategica Manager, Conrado Santamaría Polo. 'We decided to use L-Acoustics because it is the most complete and best defined system for such large events, choosing a combination of K2, K1 Subs, V-Dosc and Kara cabinets.'
With the assistance of L-Acoustics' Alex Soto and Marco Pineda, and again using Soundvision, Santamaría Polo and the Línea Estrategica team devised a distributed PA that would cover the vast site, with a hang of 12 K2s topped with a K1-SB sub either side of the stage, plus ten hangs of ten K2 with two K1-SB subs, five hangs of ten V-Dosc and ten towers of ten Kara cabinets positioned across the front of the stage at 50m intervals.
'The L-Acoustics systems were impeccable and exactly what we needed for the challenges we faced with both events and, having tested it to the full in Ecuador, we had absolute confidence that it was the right solution for this year's event,' Santamaría Polo says. 'The organisers for the Medellin event were impressed with the performance of the K2 system, as well as the service provided by Linea Estratégica, and the audience enjoyed being able to hear every word the pontiff delivered on this visit to South America.'