UK producer Simon Kiln has purchased a Telefunken Elektroakustik ELA M 260 Tri-Mono microphone package – comprising three ELA M 260 microphones and a three-channel power supply capable of powering all three mics – for recording at Abbey Road Studios and with the mobile recording unit.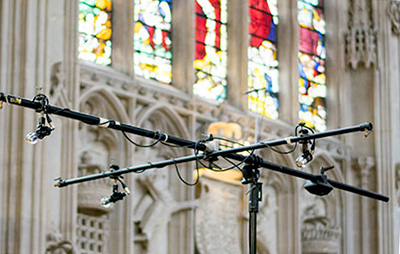 'We first trialled the Telefunken mics on a recording session at Kings College Cambridge with the choir and the Britten Sinfonia,' he reports. 'The engineer was BAFTRA Award-winner Jonathan Allen, who worked at Abbey Road for 23 years and liked Telefunken's Tri-Mono set-up very much.
'They have a lovely warm sound with good detail, also giving a good sense of the space around the instruments and voice. They are really great to have on location with the interchangeable capsules making them very adaptable, but work equally well in the studio, too. The different capsules seem to be tonally well balanced.'
Decca Records classical music engineers pioneered the Decca Tree microphone placement technique in the early 1950s, creating the sense of stereo image and balanced coverage of an orchestra that the conductor might have heard while he led the orchestra. The technique features three omnidirectional microphones placed in a reverse 'T' configuration, roughly above the head of the conductor. The left- and right-hand mics are positioned behind the conductor while the centre microphone hangs in front of the conductor.
The sale of the ELA M 260 Tri-Mono package was handled by London's SX Pro: 'Working with the guys at Telefunken was effortless when arranging the M260 initial trial loan for Abbey Road Studios,' recalls sales rep, Lawrence Ames. 'We had the mics shipped from to the US to the UK in just a couple of days, well in time for Abbey Road's session.'