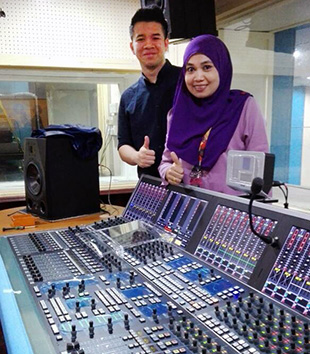 In partnership with Berlin-based manufacturer Stage Tec, Stagetec Asia has completed the installation of four Auratus platinum audio mixing desks and four Nexus audio networks at four regional radio stations in the Malaysia state of Sarawak.
The contract serves Malaysia public radio and TV broadcaster RTM's move to digitalise its regional studios across the country, with Stage Tec digital mixing desks and digital audio networks providing the building blocks of the strategy. The RTM studios Miri, Limbang, Sri Aman and Sibu went digital as part of the transition to the DAB standard.
Each of the Auratus consoles has 24 faders and each of the Nexus audio network includes four Base Devices. Multi-purpose studios in the radio stations have been fitted with the consoles and routing systems to support the broadcast of live music events, which require great flexibility and high-quality sound. The consoles are integrated via fibre-optic cables into a Nexus network, which can handle a wide variety of inputs and outputs.
'Although RTM Miri, Limbang, Sri Aman and Sibu are regional stations, they are now equipped with state-of-the-art systems comparable to those at the RTM studio headquarters in Kuala Lumpur. For Malaysia's public broadcaster, this digital upgrade is a big step on the way to producing programmes to the latest standards,' says Stagetec Asia MD Advon Tan, underscoring the significance of this installation.
More: www.stagetec.com