Electronic artist Richard Devine has added Manley Labs Massive Passive equaliser to a recording rig that spans vintage synths, modern modular systems and classic outboard – his first Manyley purchase.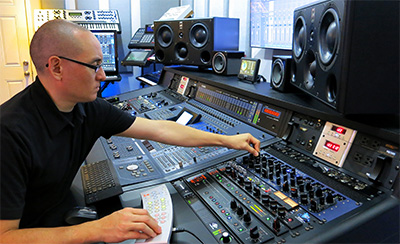 With a portfolio covering Aphex Twin remixes, high profile commercials, virtual-reality projects for Silicon Valley and patch design for Korg and Native Instruments as well as his own music, Devine's work is unusually diverse. He owns a large collection of EQs including several vintage models, and was seeking to expand his palette with another EQ designed that in legacy style.
'I was interested in the Massive Passive, because it's in that classic style of vintage EQs,' he confirms. 'I wanted something that had a little bit more control, and slightly a different flavour than what I already have.'
The two-channel, four-band Massive Passive, with its console, parametric and graphic equalisers, excels at both dramatic shaping and subtle shading: 'You can sculpt the sound in really interesting ways, but it's never harsh; it's very smooth. You can still do some radical things with it, which is what really impressed me.
'The vacuum tube components within it give you this nice, warm tonality to everything that you run through it,' he continues. 'Even when you set all the controls at twelve o'clock, with no boosting or cutting, just running the signal through the Massive Passive has such a pleasant outcome.'
The Massive Passive serves multiple purposes in Devine's studio, primarily on his mix bus, and also in his mastering chains for sound design as well as his own music. 'It's like that perfect end-stage EQ,' he says. 'Sometimes you don't want that much coloration. You just want the right amount, and at the same time have enough controls to shape the frequency spectrum in a way to where you're not completely destroying the audio material that you're running through it.'
Devine has found the Massive Passive to be particularly valuable for polishing his work for television, which comes with extremely tight deadlines. 'A lot of times, there is no mastering stage,' he says. 'So I'll master the production myself and try to give them the best quality product I can, right before it goes to the sound editors and gets sent off to the network.'
He has been using the Massive Passive to put finishing touches on a forthcoming album, an all-analogue recording created entirely on custom modular synths. 'The whole idea was to just do it all by hand, and do it with analogue processing, analogue shaping, from start to finish,' he explains. 'I wanted to do it like I'm sculpting clay.'
Wanting a flexible EQ for his master bus that expanded his sonic options and was simple to use, he is happy with his choice: 'Massive Passive satisfied all those requirements for me, and it definitely blew my expectations away in every aspect of that.'
More: www.manley.com