DirectOut has appointed LP Systems SP as its distributor for the Polish market, brining a new level of support to customers through in-depth service and support.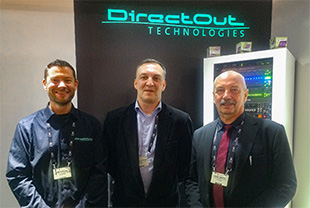 The LP Systems team consists of experts in the fields of complex radio, live and television installations as well as recording solutions.
'The effect of remote productions, budget limitations and increasing quality and reliability demands in radio, live and television productions, means that DirectOut products will be used heavily in the future,' says acting MD, Paweł Mathia, an experienced radio broadcaster with more than 30 years' industry experience. 'Based on IP, Madi and other sophisticated technologies, they are ideally suited for achieving the ambitious goals that LP Systems has been pursuing since its beginning. The DirectOut products and solutions meet the challenging media market demands and will be a cornerstone of the market's transition.'
To promote DirectOut products on-site, a number of demo devices are available to customers for testing as well as for current productions. An essential part of LP Systems' approach to building DirectOut's brand in the Polish market is efficient and effective service and support; therefore all engineers have been trained by DirectOut at their German headquarters.
'We are always looking for technically experienced and motivated distribution partners, who act as consultants and service providers in addition to the pure sales business – and LP Systems meet these requirements perfectly,' says DirectOut MD, Jan Ehrlich. 'For us, LP Systems was the first choice in Poland because the company has a close relationship with our customers in all vertical markets, and gave us the feeling of exactly knowing what is important for us as a manufacturer.'