William Carey College's Thomas Hall Theater has completed a major renovation that includes an Allen & Heath dLive S Class Digital Mixing System with S5000 Surface and DM64 MixRack. The renovation took place after a tornado destroyed the roof of the 1,200-seat theatre at the college's main campus in Hattiesburg, Mississippi, in January 2017.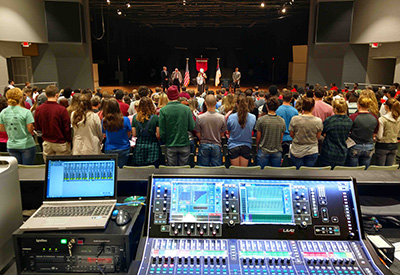 'The tornado wiped the slate clean and we had a blank canvas,' says Mike Marchese, President of Louisiana Media Group who designed and installed the theatre's new audio system. 'We spoke with college officials and student groups to guide us in creating a new system. And, since the theatre hosts a wide variety of events from plays and musical performances to educational classes and chapel services, the mixer choice came down to functionality.'
Marchese recommended the Allen & Heath dLive for the theatre's new audio system: 'I've found the dLive to be an easy-to-use, very logical digital console with power and capabilities that are second to none,' he says. 'I can use the touch screens but it still has knobs in the right places so it just makes a lot of sense and, when you sit in front of it, you're not intimidated.'
As a Christian liberal arts college, William Carey produces frequent plays and dramas and Marchese reports the theatre students being excited about the dLive's scenes: 'With the S5000, you can set up and rehearse your scenes in any order and rearrange them later to match lighting and other cues.'
dLive provides both FOH and monitor mixing from a booth in the centre of the audience and will soon be used for multitrack recording via a Dante card installed in the S5000. 'They're also using the internal effects,' he says. 'Those are very good – some of the best I've ever worked with in a live console.
'There are a lot of consoles on the market. But, for us, the dLive has changed the way we will be working with clients like this going forward,' he adds. 'The Thomas Hall Theater is a great facility. I'm looking for big things to come from it. And, with the dLive, they could have a major touring company come in there and they won't need another console.'