Described as 'the inspiration for knowledge culture and innovation', the new De Krook building in the Belgian city of Ghent is the initiative of Ghent University and IMEC and is centred on a library supported by a range of facilities, including IPEM's ArtScienceLab. The facility has been designed as an open house for all citizens to use.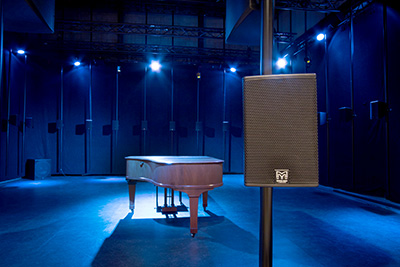 De Krook was designed by architects, Ghent-based Coussee & Goris Architecten and Spanish Catalan firm, RCR Arquitectes, to resemble a stack of horizontal plateaus. Martin Audio's Belgian distributor, Face, presented the successful technical bid for the A/V fit-out for the ArtScienceLab, responding to a tender document issued by IPEM.
In proposing the Martin Audio CDD series for the Lab, Face met the requirements for a loudspeaker with horizontal dispersion of 120° and high SPL from a compact enclosure, in order to reproduce live music and immersive sound research taking place in the Lab. The system, comprising 64 pole-mounted CDD6 (6.5-inch) Coaxial Differential Dispersion speakers, is driven and processed by Powersoft amplification over a Dante network. Providing LF extension are four Martin Audio CSX118BF 18-inch compact direct radiating powered subwoofers.
The installation will also be used for Wave Field Synthesis spatial audio rendering. The technical installation was project managed by Face's Steven Kemland and Stijn Vermeiren.
The new facility will be used by the research groups for Media, Innovation and Communication Technologies (MICT of the Department of Communication Sciences), Culture & Education (Department of Educational Sciences), IPEM, and IDLab (Internet and Data Lab), all of which will be operating from there. Urgent.fm, Ghent University's own radio station, also operates from there.
'Having now had time to make an in-depth review of the installation I must say how much I admire the result, which sounds and looks splendid,' says Bart Moens, from the Dept of Art, Music & Theatre Sciences. 'I want to thank the FACE team for their wonderful co-operation.'
More: https://martin-audio.com