Featuring The Foo Fighters, Liam Gallagher, Royal Blood and Queens of the Stone Age, CalJam was staged at the Glen Helen outdoor arena in the California Hills in front of a crowd of more than 50,000.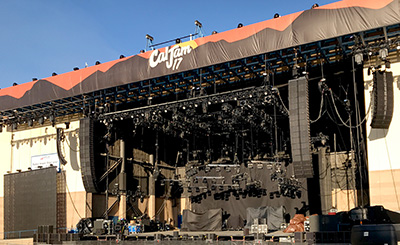 The inspiration of Foo Fighters frontman Dave Grohl, CalJam is a one-day festival that saw Britannia Row ship an L-Acoustics K1 loudspeaker system from London.
'We had shipped the equipment for the current Foo Fighter's US tour so had the basic infrastructure in place and our recent acquisition by Clair Global gave us the support in the US to take this project on with the confidence that we could do it well,' says BritRow Sales Director, Lez Dwight.
'We'd collaborated earlier in the year on Ariana's massive One Love concert in Manchester so had established the logistics. We also had help from our friends at US Audio who provided excellent additional crew and equipment. I just made sure of the logistical planning – it was our guys in the field that made it so successful.'
'I thought Britannia Row were great,' says Liam Gallagher FOH engineer, Shan Hira. 'I'd not met Lez before. He did not disappoint. It was a full-on festival situation, and the crew was spot on. The PA tech was Adam Smith, I know him from an earlier show we had done with the Foo Fighters, and he's very good. I did walk the field – we got 20 minutes in the morning and, to be honest, I didn't do much, just a little bit of EQ specifically for me.
The Foo's gig we did earlier in the year with Adam was another festival in South Korea,' he continues. 'What I heard there, and that was a K1 system as well, was one of the best sounding PAs I've ever heard in the open air – Bryan Worthen the Foo's FOH said the same thing. So, when I came here and saw Adam again it was someone I knew I could trust – if he says, "this is what's what and sounds good here", you know exactly what you will be working with.'
More: www.britanniarow.com