Attracting a viewing audience of 14.3m, the 51st Annual Country Music Association (CMA) Awards gave ABC Television its most highly viewed Wednesday night programme in three years. The three-hour telecast again brought together the biggest names in country music for an evening of memorable performances, with Carrie Underwood and Brad Paisley hosted the evening, while ATK/Audiotek providing the sound system, and FOH mixers Patrick Baltzell (Production Mixer) and Rick Shimer (Music Mixer) handling live sound, and Music Mix Mobile's John Harris and Jay Vicari the broadcast music mix.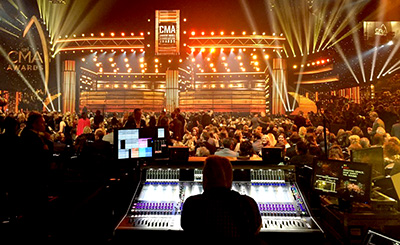 The lion's share of the event's microphone count fell to Sennheiser and Audio-Technica.
Underwood and Paisley both used a Sennheiser SKM 5200 handheld transmitter and MD 5235 capsule combination, running through a Sennheiser 3732-II receiver.
After an acappella rendition of Amazing Grace by Eric Church, Lady Antebellum and other performers joined Darius Rucker for a rendition of the Hootie and the Blowfish hit 'Hold My Hand'. Lady Antebellum put a Sennheiser Digital 6000/9000 wireless system to work, which included EM 6000 receivers and SKM 9000 handheld transmitters paired with MD 9235 microphone capsules. During the evening, the band also received an Album of the Year nomination for their latest record, Heart Break.
Reba McEntire then joined Best New Artist nominee Kelsea Ballerini for a performance of Ballerini's hit 'Legends'. McEntire – who also received a nomination for Female Vocalist of the Year – performed through a Sennheiser SKM 5200 handheld transmitter and Neumann KK 105 capsule combination, flawlessly transmitted through a Sennheiser EM 3732-II receiver.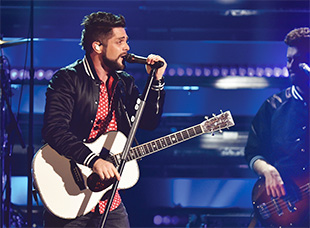 Crossover superstar P!nk delivered a faithful rendition of her ballad 'Barbies' on her first ever CMA performance, encircled by her band which featured backing vocalists, an acoustic guitarist, and a string section. Her voice was captured with Sennheiser's Digital 6000/9000 wireless system, running through an EM 6000 receiver. Like Lady Antebellum, P!nk used a combination of the Sennheiser SKM 9000 handheld transmitter and MD 9235 capsule, which delivered a pleasing, natural sound. She then performed an emotionally moving duet with Kenny Chesney on 'Setting the World on Fire', which also received a nomination for Musical Event of the Year.
Audio-Technica's Artist Elite 5000 Series UHF Wireless System with AEW-T6100a Hypercardioid Dynamic Handheld Microphone/Transmitter was used for lead vocals by Audio-Technica endorsee Thomas Rhett, who performed 'Unforgettable'; and gospel greats the McCrary Sisters, who performed 'Chattanooga Lucy' with Eric Church and band. Additionally, Annie Clements, background vocalist with Maren Morris and Niall Horan, performed using the 5000 Series Wireless and AEW-T6100a on 'I Could Use a Love Song/Seeing Blind'.
The backline mic complement of A-T wired microphones included the AT4081 Phantom-powered Bidirectional Ribbon Microphone on guitars; AT4050 Multi-Pattern Condenser Microphone on overheads and choir; AT4047/SV Cardioid Condenser Microphone on guitars; AE2500 Dual-Element Cardioid Instrument Microphone on kick drum; AE5100 Cardioid Condenser Instrument Microphone on hi-hat and ride cymbals; ATM650 Hypercardioid Dynamic Instrument Microphone on snare; and ATM350 Cardioid Condenser Clip-On Microphone, ATM250 Hypercardioid Dynamic Instrument Microphone, and ATM230 Hypercardioid Dynamic Instrument Microphone on toms.