The off-West End fringe venue the Space in-house company, Space Productions, is building an enviable reputation for its acting and direction, as well as staging new and challenging drama. Keri Chesser is dedicated to pushing the boundaries of sound design within the intimate site, confidently manipulating the audio framework of productions using a TiMax SoundHub spatial audio matrix – not only does it allow sound effects to be integrated into the sound design, but the intimacy of the theatre's atmosphere to be enhanced and exploited for benefit of audience reaction.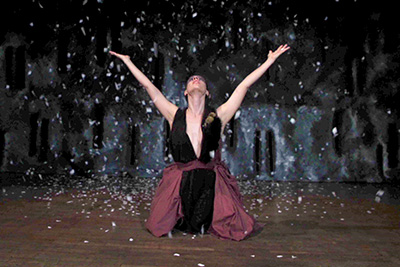 Chesser and the Space Productions team recently staged a minimalistic adaptation of Howard Barker's The Castle, where TiMax again topped her tool kit: 'I love to use TiMax, it makes me braver with my sound design' she confesses. 'It makes me want to discover new ways of manipulating the audio rather than just sticking to the limitations of the speakers I have.'
The invisible loudspeaker set-up comprised just seven cabinets – two compact speakers at floor level in the audience, pointed at the walls for diffuse surround; two monitors on the stage mezzanine; and a further two hidden PA speakers positioned upstage along with a sub. Seven outputs from TiMax drive the loudspeakers directly, and sound effects from Q-Lab on a Macbook Pro go to TiMax via Dante, which Chesser used or the first time for this production.
'Working with Dante was a lot easier than I thought. I'd been putting it off as I'd had no training but, with help from Dave Haydon from OutBoard, it actually made my life so much easier and there were less wires.'
Midi-triggers from QLab fire corresponding immersive 3D spatialisation and panning Cues programmed within the integrated TiMax PanSpace and TimeLine rendering and showcontrol tools.
The Castle's sound beds are central to the stage direction, and TiMax is used to build and calm tension as well as to create incessant rain and other weather effects. The script also requires various spot effects in specific locations, such as bodies falling and landing from the battlements, and the distant screams of hapless torture victims.
'TiMax offers so much more spatially than Q-Lab and enabled me to anchor sound effects very efficiently,' Chesser explains. 'I just created the image objects and told TiMax how the imaging and movement needed to happen.'
Acknowledging the benefits of combining versatile TiMax spatialisation with familiar QLab playback and sequencing, Chesser says: 'I could have just used Q-Lab to statically pin the effects but it would not have worked nearly as well – particularly sounds coming from beyond the audience. The atmospheric sounds would definitely not have been as immersive as I wanted it either. The Castle is a brilliant play but it is difficult to play with: there are a lot of devices to bring you straight back into the action of conflict and rule – and with TiMax I pulled it off brilliantly.'
More: www.outboard.co.uk