Copenhagen's Rhythmic Conservatory offers more than 30 rehearsal rooms to students, musicians as well as producers, each equipped with a recording set-up, including USB recording interfaces, preamps Midi keyboard and controller and studio monitors – students simply hook up their own laptop, and get to work.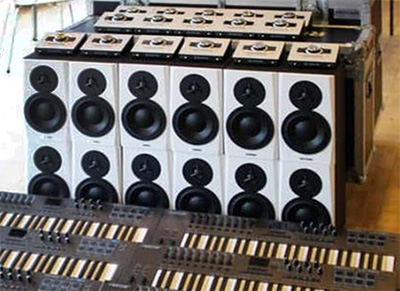 Sixteen of these spaces have been equipped with Dynaudio Lyd 7 studio monitor loudspeakers.
'All of the new rooms are prepared with a basic set-up that allows our students to bring a laptop and simply plug in,' confirms Sound Technician, Tim Harris, who took the lead in the new rooms' design. 'They have access to record up to 16 simultaneous tracks and, since most of our students have a DAW and their favourite sound and instrument libraries on their own laptops, there was really no need to install computers with the same software in every room.'
'We tested five different monitors in the same approximate size and price range and found that Lyd 7 was by far the best solution – from a pure sound-quality perspective, as well as in terms of coping with the physical space,' he continues. 'The rooms are quite small so the monitors are often placed close to the walls, and the Position switch on the Lyd 7 really works out great in that respect.
'Another important consideration for the new rooms was a focus on quality. We knew that it was key to be able to offer the students equipment that is better than what they have at home and also in that respect, the Lyd 7 was a great solutions for us.'
More: www.dynaudio.com