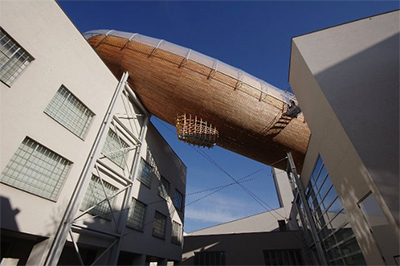 Among the most deceptive cultural buildings in Europe, the Gulliver airship at the DOX Centre for Contemporary Art in Prague appears to float above the surrounding buildings when viewed from street level, although it is actually an integral part of the building.
Named after the fictional traveller, the 42m-long, 120-capacity steel and wood airship is a permanent space for lectures, exhibitions, screening and other cultural events. It is the idea of DOX founder Leoš Válka and his belief that all things can be done a little differently.
The shape of the structure recalls the Zeppelin era, representing utopian ideals of unprecedented technological advance – as reflected in its A/V installation. Specified and installed by Martin Vondrášek of the Prague-based A/VT Group, the audio system comprises four Yamaha VXS5W speakers arrayed along each side of the 'body', powered by an XMV8140 multichannel amplifier, with signal distribution and processing by an Yamaha MTX5-D matrix processor. Audio inputs come from wireless microphones, a laser projector and a waterproof connection panel for extra A/V equipment, as required.
Further rooms at DOX Prague are currently being refitted with new A/V systems, including Yamaha matrix processors, mixing consoles and I/O units.
More: www.yamahaproaudio.com