New sound engineering courses introduced at Massey University in Wellington, New Zealand, centre on four Audient ASP8024 Heritage Edition mixing consoles, which have been installed for along with 26 Audient iD4 and four iD14 audio interfaces.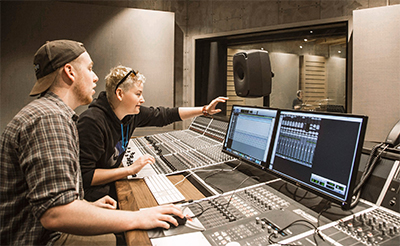 'The studios are brand new, so having decent desks to start with was important to us,' says Sound Design programme leader, Neil Aldridge, welcoming the 48-channel, 36-channel and two 24-channel desks to teach Music and Sound Engineering, The Recorded Work and Mixing and Mastering. 'The students took to the Heritage consoles like ducks to water, and having the same desk in four control rooms, means that they can move from one room to another without any trouble at all.
'I love the signal flow on these consoles. Moving from tracking to mixing is so natural, the Heritage melts into the background, allowing your creativity to come to the fore.'
It was just over a year ago that 25 of Audient's larger iD22 audio interfaces populated the university's iMac lab, just in time for the debut of the new Commercial Music degree course, which Aldridge reports 'is going from strength to strength – as the new courses come online, and we get more students, we are seeing an amazing cohort, and are looking forward to seeing what the students go on to after they graduate.'
The interfaces boast the same mic preamplifier technology as the consoles, consistency in sound quality across all the teaching studios.
'For me, a continuing delight with the iD22s is that they just work, and continue to sound great. No fuss, no bother – a solid piece of intuitive kit,' Aldridge adds. 'The success of the iD22s definitely informed our decision to get the Heritage desks.'
As well as investing in the smaller audio interface range from the British company: 'The iD4s are being used in our Mac Lab. They are used for the Music Studio Production course, which is based around Logic Pro X and takes a more in-the-box approach. And also for the sound-to-picture course Introduction to Audio Production and Sound Design, which is a postproduction course based around Pro Tools.'
Aldridge confesses to having been a fan of Audient for a while, thanks to co-founder, David Dearden's designs. 'The first studio I worked in had a DDA D series, so I know the DDA sound. Also, knowing Dave's work, and having used the iD22s for a while now, I had total faith that the sound and build quality of the desks would be what we were after. I wasn't disappointed.'
With a higher risk of earthquakes, all new builds in New Zealand need to be approached with what Aldridge describes as 'seismic consideration', which is demanding in itself.
'This was particularly complicated to meet the additional acoustic requirements of having many recording studios in close proximity, with some live rooms being shared by more than control room,' he says. 'Happily, the combination of acoustic design by Andy Munro from Munro Acoustics, and building design by Athfield Architects has meant that the end result has more than exceeded our expectations.'
As well as the studios themselves, Aldridge is pleased with how the department is developing overall. 'As a school, both faculty and student numbers are growing. It's a very natural growth, and feels like the family is extending in the best possible way.
'Watch this space, there's a lot of talent moving through these studios…'
All Audient equipment was supplied by NZ Audient distributor, Protel.