Brighton-based indie pop band Fickle Friends have played countless shows and festivals across the UK and Europe since arriving on the UK music scene in 2013, and have now signed with the Polydor label – all without even having a full-length album under their belts. Bringing DiGiCo along for the ride has proven an essential ingredient in their ongoing success.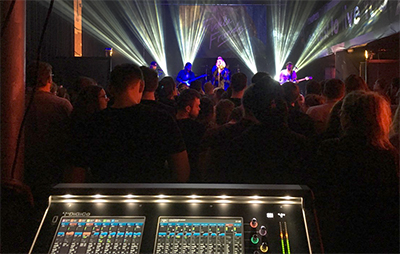 FOH engineer Calum Mordue, of Patchwork London, which supplies the audio equipment for the tour, has been working with the band for the past 17 months and has chosen the DiGiCo S21 as the perfect console for the job. 'I chose the S21 because of the compact size, channel count and processing power,' he says.
'Being able to get 48 input channels across 16 stereo outputs from a console less than a meter wide is phenomenal. More importantly, it sounds like a DiGiGo; as good as a big boy SD7. The FX are great, too.'
Mordue has been able to put the S21 through its paces with Fickle Friends, as their requirements change from show to show: 'We run 35 pre-fade inputs across five stereo outputs. On the smaller shows, we use the S21 for FOH and monitors. At larger festivals, it's used for monitors only. We also multi track each show; for both occasions where no sound check can be done and when we just have ten minutes with the PA. The band also like to listen back for any mistakes to critique and improve.'
With the sound and functionality of the larger SD-Range, the DiGiCo S21 has become popular across the board with engineers. Especially at a time when music industry touring budgets are continually squeezed, the S21 allows engineers to deliver the best possible show in any given circumstance.
'The Multiband Compressor really helps me out,' Mordue agrees. 'Natti, the singer, can get quite harsh around 2-3kHz. I can control those frequencies, but not lose them, when she's not pushing. I love the Set Spill button to keep all my channels accessible without having to page through loads of layers. The S21 has also really improved our soundcheck times and the band's IEM mixes. Instead of having to start again every day, we are able to just plug it all in and 90 per cent of the IEM mix is done, so I can concentrate on FOH mixing without worrying what the band are hearing.'
The S21's compact design and diverse functionality have made it the 'go-to' console for many emerging bands and artists, allowing engineers to deliver on everything from the smallest show to the largest, as Mordue confirms: 'The S21 has been a pleasure to mix on,' he says. 'And DiGiCo has always been on hand if we have ever had any issues, which has been helpful for things like using Gain Sharing via an SD Rack and a Little Red Box.'
More: www.digico.org