Claiming 'largest rehearsal studio complex in the world under one roof' status, Soundcheck has equipped several of its Nashville rehearsal studios with Allen & Heath Qu-32 Chrome Edition digital mixers.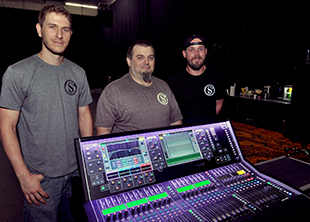 Soundcheck replaced older digital mixers in its smaller rooms with Qu32 desks and chose an A&H dLive S Class Digital Mixing System with S5000 Surface and DM48 MixRack for one of the larger rooms.
'We turn over our small rooms as often as two or three times a day, so the Qu's have seen a lot of action,' says Soundcheck Senior Engineer, Stephen Taylor.
Taylor sets up each Qu-32 with both inputs and effects returns on the Custom Layer: 'That's our starting point for the wide range of acts who use these smaller rooms. And we do both FOH and monitors on the Qu's,' he adds 'They're great for that.'
He uses scenes to set up the dLive for Soundcheck's larger clients: 'Our default FOH scene is very user friendly,' he says. But, Taylor and the other Soundcheck engineers save customised dLive scenes for their frequent clients. 'Their engineers set things up the way they want with faders and effects and labels,' said Taylor. 'But, we can quickly go back to our default scenes for the next client.
'Recently, one FOH engineer was in there tweaking the room, and we had the dLive and another desk right there next to each other, so we A/B'd them and the dLive sounds more crisp and there's more clarity there.'
Taylor, who also does freelance mixing, recently mixed monitors on a dLive. 'I love it in that role,' he says. When I'm actually mixing a show, the way my hands navigate over the surface is really important. So, in monitor world, I love that I know where all of my mixes are and I don't have to look at the console. I can just look at the band.'
'With our other digital mixers, you're stuck with however they're set up,' says Soundcheck Operations Manager, Matt Herzer. 'But, with the dLive, you can get the work flow however you want it to be.'
Taylor adds that FOH engineers for larger acts aren't always eager to try a new digital mixer, 'but, most of the time, it just takes a two-minute crash course to show them how easy it is to set up the S5000 with the drag-and-drop. And, then, they say, "Okay, that's great – now get out of my way".'
More: www.allen-heath.com