Mastering engineer Barry Grint has added an ATC P2 Pro Dual Mono Power Amplifier to his Alchemy Mastering working set-up.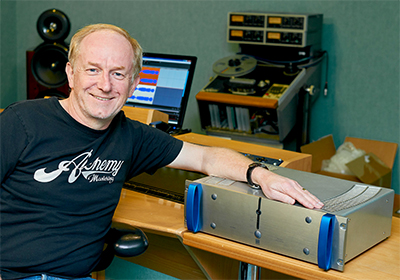 Grint founded Alchemy Mastering in 1998, having previously worked at Abbey Road, Porky's Mastering, Tape One and Trident Studios. 'I wanted to work in a recording studio, but getting in has always been difficult,' he recalls. 'I had many jobs beforehand, but eventually I started as a tea boy at Trident. Seeing first-hand what being a studio engineer actually entailed, I felt that it wasn't quite right for me. On the third floor there was disc cutting – vinyl and cassette being the only formats at the time. I immediately felt at home, starting in the tape and cassette copy room, before moving up to vinyl mastering in 1984.'
He has witnessed a lot of industry change in the intervening years, and now operates from an elegant West London mews that houses three acoustically-tuned studios with natural daylight designed by the three 'Alchemists' – Grint and fellow Directors Matt Colton and Phil Kinrade. 'We all react to what's coming out of the speakers, and we make our judgements based on how that sounds in the room,' Colton said after receiving the Music Producers Guild Mastering Engineer of the Year award in 2013.
'The choice of equipment is a very personal thing,' Grint says. 'I was very happy with my monitor speakers, but they seemed to lack bass extension; Matt has active ATC SCM150 ASL Pros in his room, so I thought that an ATC amp might give me more bass.'
The P2 Pro Dual Mono Power Amplifier is a true dual mono design delivering 300W continuous power simultaneously from both channels to drive the most challenging loudspeaker loads: 'The bass extension is great, and there is also a noticeable improvement overall – a smoothness that gave improved detail and clarity,' Grint reports.
Beneficiaries of this latest acquisition include Remastering Jeff Wayne's War of the Worlds, The Stranglers, Declan McKenna, Tom Odell, Sean Paul and Roger Waters; and vinyl mastering for All Tvvins, Gorillaz, Laura Mvula, Little Mix, Radiohead, Rag'n'Bone Man, The Libertines and The Rolling Stones.
'When I started, people recorded in recording studios and mobile studios were big articulated lorries loaded with massive Neve, Cadac, or Trident desks and multitrack tape machines. Today, digital recording has made available amazing recording spaces. Sometimes this means that for some projects the mastering room is the only controlled listening environment, one where a good speaker/amp combination is vital. This is why we went with ATC.'