Broadcast Solutions has completed delivery of a large OB fleet to Turkmenistan TV – including the first 4K OB van to be working in the Central Asian country.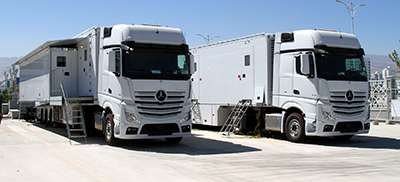 Delivered in cooperation with Turkish company Polimeks, the fleet comprises 16 vehicles completed in two phases of construction. Each set of four production vehicles consists of an OB trailer, support tender, generator vehicle and a SNG. The last set operateds entirely in UHD.
Polimeks is the general contractor for the Ashgabat Olympic Complex in Turkmenistan and coordinates on-site broadcast facilities. All production resources were used at the 2017 Asian Indoor and Martial Arts Games at Ashgabat Olympic Complex, Turkmenistan. Besides delivering the OB vans to Turkmenistan TV, Broadcast Solutions was on-site during the competitions to support the production and the teams.
In 2015 Broadcast Solutions delivered the first two sets of eight production vehicles to Polimeks Turkmenistan. Each set consisted of an HD-OB van for 11-15 camera productions, support van, generator van and an SNG. The contract was completed in 2017, with the delivery of the last two sets of vehicles in readiness for the Asian Indoor and Martial Arts Games in September 2017. To protect the vehicles all trucks were put on a flatbed truck to be transported to the customer.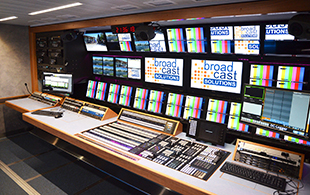 'Although the project-schedule was very tight, and we completed building all eight vehicles in a record-breaking time of only seven months, we accomplished this project without any compromise on quality and cutting-edge technology,' says Wladislaw Grabowski, COO at Broadcast Solutions and project manager for the commission.
All vehicles were built to order and accommodate territry and intended application, including the extreme climatic conditions that hit -20°C in winter to +50°C in summer. This is realised by highly efficient insulation plus the use of powerful air condition systems – a special field of Broadcast Solutions. Due to their design with redundant power supply and efficient UPS units, both OB vans can be switched to generator mode interruption-free, in case an electricity failure occurs. The two SNG units (Volkswagen T6) transmit over dual band feed (extended-Ku/Ku), and so can use conventional as well as Turkmenistan's own satellite.
The UHD/4K OB van supports 15 cameras, and is equipped with Studer Vista 5 (PGM1) and Studer Vista 1 (PGM2) audio mixing console, together with two Studer stageboxes and two Wireless Mic/InEar stageboxes. A Studer SCore 528x538 provides routing with Tascam machines for recording. The van's microphone complement includes models for Sony, Sennheiser and Holophone, with a TC Electronic M6000 for audio processing. The intercom matrix is a Riedel, Artist 128, with Riedel Acrobat and RiFace systems for wireless talkback.
One of the next events the OB vans are going to be used is the international golf tournament in Ashgabat at the close of 2017.