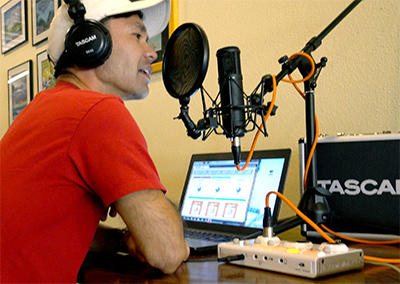 Joey Mack (Joey McCloud) and podcasting partner JDub are the voices behind the Gaming on Tap podcast – a 'bite-sized' discussion of beer and gaming.
'To start the show, we crack open a new beer, talk about it, taste it, describe it, and then we move on to a current board game that we've been playing recently and casually talk about why we like it,' Mack explains. 'We won't spend any more time chatting than it takes for us to slowly savour the beer we pour at the beginning of the show.'
What is not apparent to listeners is that he and JDub are miles apart – Mack in the San Francisco Bay Area and JDub in Oregon. With a 90-minute journey to work each, the two friends passed the time discuss beer and board games. Eventually, they decided to turn their conversations into a podcast.
When they started the Gaming on Tap Podcast, they had no experience with audio or podcasting. 'We went out and bought some USB mics,' Mack recalls. 'We thought that would do the trick. We recorded two episodes, and JDub sent me the audio files. I brought them into Adobe Audition, and right away I knew they were unusable.'
Mack began researching podcasting gear online. 'Tascam kept popping up in search results,' he recalls. 'I reached out to Tascam to see what types of products they would recommend, and one if their guys contacted me and educated me on the line of products they have specifically for podcasters. We ended up purchasing the Tascam MiNiStudio Creator US-42, TM-280 studio condenser microphone, and a pair of Tascam headphones. We bought two sets of each, so I have a set, and JDub has a set. Now, even though we're not in the same room when we're recording, we have a show that sounds like we're sitting in the same room having a conversation, which is what we wanted all along.'
The MiNiStudio Creator US-42 is an affordable solution for podcast production and internet broadcasting, providing up to 96kHz, 24-bit USB 2.0 recording with Windows and Mac computers. It offers two XLR/TRS mic inputs and features professional-calibre HDDA microphone preamps. Built-in buttons and processing enable Mack and JDub to add sound effects on-the-fly and apply EQ, compression, and reverb. 'I like having knobs and buttons that I can use to make micro adjustments as we're recording the podcast to make it sound exactly the way I want,' Mack says. 'I like having that kind of control right at my fingertips.'
Between the MiNiStudio Creator and the TM-280 large-diaphragm studio condenser microphone, Mack and JDub's Gaming on Tap Podcast finally sounds the way they envisaged it. 'I'm so happy with the way that our podcast is sounding these days,' enthuses Mack. 'It sounds broadcast quality. The Tascam products make it sound like we actually know what we're doing.'
More: www.tascam.com