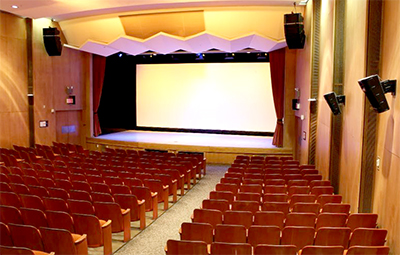 With diverse student-centric programming – including films, plays, musical performances and lectures – on its agenda, the University of Texas at Austin's Texas Union Theater recently found itself in urgent need of an A/V update. Engaging Ford Audio-Video Systems to design and install a new system, it now has a Fulcrum Acoustic loudspeaker set-up.
Among the requirements for the installation were the need for clarity, intelligibility, and pattern control to reinforce sound for films and live events, and for the system to be powerful loudspeakers yet small enough to fit within the theatre's tight installation spaces without interfering with sightlines or aesthetics.
'We flew LR Fulcrum FL283 four-module line arrays that seamlessly cover the room without obscuring the screen or projector,' explains Ford Project Engineer, Charles Croley. 'The FL283s sound great and their Passive Cardioid Technology keeps sound focused on the audience, and off the architecture and stage.'
With no space behind the screen to work with, two compact Fulcrum CX Series coaxial loudspeakers were deployed as centre channel loudspeakers in a small open ceiling space above the stage lip. A CX1295 12-inch coaxial speaker (90° x 45°) covers the close field and a CX1265 (60° x 45°) handles the 70ft-long throw to the rear of the theatre.
Physical space challenges also precluded flying subwoofers above the stage. Croley placed two low-profile Fulcrum Sub218L dual 18-inch subwoofers under the shallow stage to achieve the low-frequency extension and high output needed for film sound effects and live music reinforcement.
'There's always a delicate balance in designing a sound system to meet the needs of both cinematic and live sound,' Croley reflects. 'Fulcrum's technologically advanced loudspeakers perfectly augment the system's Dolby cinema surround sound upgrade, and deliver high-fidelity sound reinforcement for live performances and events. That versatility really came in handy for the Texas Union Theater.'