UK audio specialist Adlib's Scottish operation supplied a substantial L-Acoustics package with DiGiCo control to Limelight Event Services – a full production supplier, delivering audio, lighting, A/V, staging, power and other infrastructure to events encompassing festivals, concerts and music shows, corporates, industrials and sports – owned and run by Craig Duncan, and based in Inverness.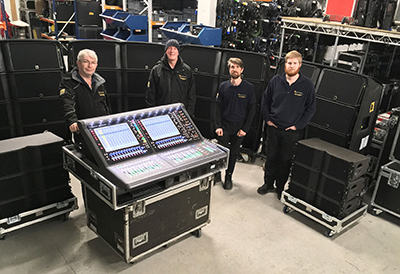 Working across Scotland and increasingly in the UK, Limelight's clients are staging bigger and more complex shows and events – prompting a complete audio upgrade. The purchases include most of the current L-Acoustics range of speakers – K2, Kara Kiva and ARCS Wide plus HiQ wedges – supplied together with LA amplifiers, proprietary flying systems, a set of LoadGuard motors and rigging, all fully flightcased. A DiGiCo SD12 console was selected as a fully-featured user-friendly console, with which most professional sound engineers are familiar.
As well as servicing existing clients more comprehensively, Duncan and the team saw this as a 'rider friendly' investment that would also kick open some doors for new business – a process that commenced almost immediately the kit was delivered. 'We feel that L-Acoustics is the best option for the majority of our work, and it's the system most often requested by band riders' he says. 'This, coupled with the great relationship we enjoy with Adlib and their excellent after-sales support, made it an easy decision'.
Limelight had already developed a relationship with Adlib as they previously owned a smaller L-Acoustics system and would use Adlib to source cross hires for larger shows and for spares as necessary.
Duncan explains that they initially approached Adlib's John Hughes and Barclay Dakers at an open day event to inaugurate the new Scottish warehouse in Glasgow in Autumn 2016, and opened the dialogue that resulted in this sale. They also historically enjoyed good relations with EFX, which then became part of Adlib Scottish operation. In addition to that, and with Scotland being the tight production community that it is – Duncan and his team knew Adlib's Andy Dockerty through his work with Scottish rockers Texas. Adlib's own association with Scotland goes back over 26 years.
Limelight had a good idea of what they wanted in terms of the equipment and Adlib was able to put together a good deal. The company also offered all the product training required to ensure that Limelight's crew could maximise the L-Acoustics' system/s and get the most out of powerful and invaluable tools like the associated acoustic modelling software, all of which took place at Adlib's warehouse.
As part of the L-Acoustics Rental Network, Limelight can facilitate sub-hires and benefit from access to a whole community of owners for their own cross rental needs.
The first show for the new kit was a high profile gig for electronic gurus Leftfield at Glasgow Barrowlands, part of the 22nd anniversary tour of their seminal 1995 album Leftism. This was quickly followed by gigs at Inverness Sports Centre for The Beach Boys and Status Quo with their Aquostic show, followed by shows headlined by Little Mix.
From Adlib's side, this sale underlines their commitment to selling and supporting L-Acoustics, DiGiCo and other premium audio brands in Scotland, and to a fully accessible support and accompanying product training infrastructure that helps maintain the best standards of excellence. 'There is a rise in demand for leading technologies and quality production values on the Scottish market, both in the live performance arena and for fixed installations, and our knowledgeable and proactive sales team is dedicated to assisting its development,' comments John Hughes.
Limelight Event Services was founded in 1991 and has enjoyed success through a solid client base and passion for service and imaginative production solutions. The company currently has six full time employees that increases to ten over the summer, together with around 12 regular freelancers who work full-time for the whole season on a variety of festivals, concerts and events.