Adding a fourth area campus to its activities, the Mountain Christian Church (MCC) in Maryland was confronted by low ceilings that limited sound reinforcement options for the planned 600-seat worship space. Turning to AVL systems provider Mankin Media Systems, the leadership team found their answer in an L-Acoustics' Syva colinear loudspeaker system.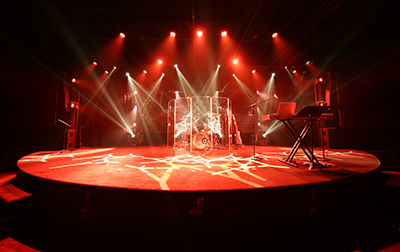 This project is particularly noteworthy in that it represents both the first North American permanent install for Syva as well as the world's first house of worship to adopt the new system.
'The Syva system at Abingdon's campus is the secret weapon that really made the room what it is,' says Mankin's Tim Corder. 'In the project's "dream" phase, we explored multiple loudspeaker design approaches for this space and they all had significant compromises – either they were too large and compromised the height of the room to the point of being a deal-breaker, or they created too much potential variation in experience throughout the space to be acceptable. Syva was the perfect solution. The finished result blends into the space unlike anything else possible, without compromising quality in the least.'
'In our area, buildings with taller ceilings are difficult to find and in high demand,' notes Technical Arts Pastor, Bob Rufenacht, who works with all of MCC's campuses and has been part of the church's AVL ministry for a decade. 'Syva was key to this project. Its sleek and compact form factor, which is no wider than the support columns they're mounted on, allowed us to keep speakers out of the way of our sightlines and out of the way of our lighting angles. It enabled us to tuck the lighting up into the ceiling structure without being blocked by speakers and facilitated raising our screen heights to help with message visibility.'
Although Rufenacht was initially concerned that more fill speakers than originally planned would be required, he points out that the system tuning process filled the gaps and smoothed the coverage in the room. 'It was impressive to see how the acoustics were adjusted in the room without changing the speaker locations or directions,' he says. 'In fact, Syva ultimately gave us a less costly solution requiring fewer speakers than other systems we had considered, so it's a real win-win-win for us that sounds absolutely great.'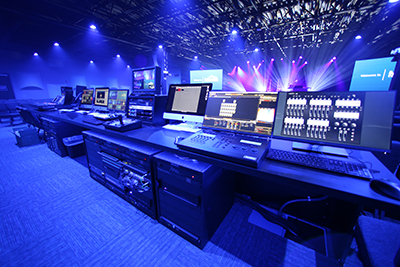 Although the satellite church's message is streamed over the Internet from the main Mountain Road campus each week using Mankin's SlipStream by Guardian service, everything else is staged live at Abingdon's campus, including the praise team and other service elements. Since opening, the new location is drawing approximately 1,000 people out to its three Sunday services, and audiences, musicians and staff members alike are reportedly happy with the results.
Mankin's relationship with MCC goes back several years, having previously installed an L-Acoustics Kara system in the 1,600-seat auditorium of its Mountain Road campus, followed by an ARCS WiFo System that went into the church's Bel Air campus this past May.
'The quality we're getting in our new room is very impressive – fully on par with our larger systems – and everything is clearly heard,' Rufenacht says. 'This system can do anything we ask it to do for us. Syva was exactly what our room needed and L-Acoustics delivered exactly what we required.'
Using L-Acoustics' Soundvision 3D acoustical modeling software, Mankin's system design placed single Syva enclosures on the pre-existing structural columns framing the far left and right sides of the stage. On the stage lip directly below each Syva are two Syva Low enclosures per side, extending Syva's LF response, while a single KS28 sub per side adjacent to the stage further solidifies the system's bottom end.
Two additional Syva systems mounted on structural columns out in the house provide additional delay coverage to the back left and right corners of the room, while three X12 coaxial enclosures flown over the audience provide additional spot fill. A quantity of AVB-ready LA4X amplified controllers power and process the entire system.