The Backstreet Boys' Larger Than Life Las Vegas residency and forthcoming 2018 world tour are relying on DirectOut equipment for its audio D/A conversion and system redundancy.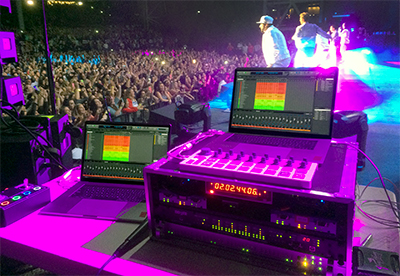 Playback engineer Romain Garnier and long-time FOH engineer James McCullagh specified DirectOut for the entirely digital show based wholly around a 'virtual band' playout of 64 separate and unequalised digitally-recorded audio tracks.
'We chose DirectOut products because they are extremely reliable and offer great flexibility,' Garnier explains. 'They're also compact and robust which makes them perfect for the road.'
Supported audio company and DirectOut audio vendor Sound Image, the playback rig for Larger Than Life includes a redundant pair of MacBook Pro computers running concurrently throughout the show. Tracks are played out via Digital Performer at 96kHz, 24 bits, with the signal converted from SoundGrid to Madi for further distribution and conversion.
In order to ensure automatic and inaudible switchover between these playback sources in the event of one failing, Garnier and McCullagh have chosen two DirectOut ExBox.Blds. In addition to the standard changeover from one system to the other, these units incorporate a unique feature from DirectOut called the Buffer Loop Detection System, which detects unwanted audio interruptions or corrupted input signals and automatically performs a reliable switch-over within a single audio sample.
The Blds feature offers the peace-of-mind we need for a high-profile production that relies heavily on smooth playback throughout,' Garnire says. 'We know that the slightest glitch or audio dropout can be detected instantly, but seamless input changeover is only a sample away.'
The Madi signals coming from the ExBox.Blds reach the optical loop for both DiGiCo FOH and monitor consoles. When it is not possible to use digital connections and for backup purposes, Garnier and McCullagh have chosen DirectOut Andiamo 2 D/As for signal conversion from Madi to analogue.
'If, for some reason, the specific DiGiCo optical loop can't be provided to us, Andiamo 2 gives us the option to go analogue with 32 outputs,' McCullagh adds. 'Therefore, we can downgrade and adapt the rig to pretty much any kind of audio package. It's quite amazing to have so much flexibility and power in a 4U-high rack.'
More: www.directout.eu