DirectOut Technologies has struck a distribution agreement with Spanish company SeeSound, covering Spain and Portugal. Effective immediately, the pro audio distribution company is responsible for the complete product portfolio of the German networking, routing and conversion specialist, including sales and technical service.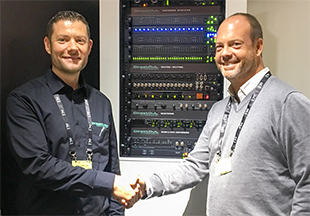 With more than ten years' experience and a team of more than 15 professionals – some of them with more than 30 years of experience in pro audio – SeeSound represents more than 25 high-profile brands dedicated to live sound, broadcast, install, vision and acoustic treatment in the Spanish and Portuguese markets. Now the company adds another leading brand to its roster with DirectOut.
'Professionals from broadcast, install and live markets appreciate DirectOut products because they make life easier, and free them from hassle when connecting digital devices using the company's elegant and solid solutions,' says SeeSound CEO, Nacho Alberdi.
'After extensive research and considering several options we are very happy with our decision for SeeSound,' says DirectOut CEO, Jan Ehrlich. 'It is the perfect distribution partner for Spain and Portugal and we are sure to have the right partner on our side. The guys are very experienced and have an in-depth knowledge of our products and understand the benefits they mean for the customers.'