WBOC-TV has completed a studio upgrade centred on a Klotz g2 audio platform by Forward Tech.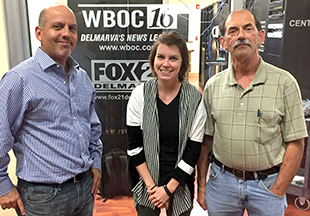 'The installation went more smoothly and quickly than I could have asked for and was done well within our window of studio time available. There was also very little required of our engineering staff to complete the project. Forward Tech did a fantastic job,' says WBOC-TV Director of Engineering, Bob Guzman.
A CBS affiliate based in Salisbury, Maryland, and operator of Channel 16 and Fox21 Delmarva, WBOC-TV has a 48-input/24-output g2 configuration with a comprehensive DSP farm including audio delay, six-band parametric EQ and dynamic processing. It is integrated via IP networking with a new Grass Valley Ignite system.
The g2 audio and DSP engine and its interface cards are compatible with older generation Vadis technology. It can be combined and controlled by third-party products such as the Grass Valley Ignite television system, and saves control room space as it can also operate without a console. All previously programmed Ignite settings, such as macros or TME's, can be re-used with the g2 software. This saves staff much time and effort, rather than needing to completely rebuild these with a different system.
'The new g2 engine is working with both WBOC's original v6 and upgraded v10 Ignite systems. We conducted staff training and everyone was happy to see that the Klotz workflow they knew remained the same. They also gained finer control of compression and EQ controls readily available in their new g2 engine' says Forward Tech US President, Henry Ramos.
The system at WBOC-TV has the capacity to grow to 144 inputs and outputs by adding additional analogue or digital sources and destinations at any time.